The Boulders Resort and Golf Course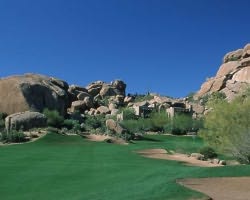 Pros: Elegant, flawless pampering, great golf ( if that's your thing)
Cons: Starts expensive and stays that way
I've stayed at The Boulders only once, but once was enough to make a very pleasant memory.
The Boulders Resort in Scottsdale, Az is a 5-star Waldorf-Astoria Resort. As mentioned, I was only there once – for two nights, but honestly, I can't think of a single need or desire, they didn't, or couldn't, provide. But perhaps the best amenity is the quiet, calmness of the setting. Maybe it's the rocks ( it wasn't named The Boulders by chance).  They're old, large, solid and cooling – just what a weary traveler wants at the end of a day, well that, a cool drink and some pretty hors d'oeuvres.
The resort has two-hundred-twenty-three rooms of varying arrangement. Envision – a semi-enclosed patio, sandy-cream in hue, a couple lounge chairs ( same color), an outdoor fireplace burning slowly, ( if that's your desire), a few palmtree fronds clattering in the breeze – nothing in particular to think about – aaahhhhh……..
What amenties can you expect?
A/C ( after all, this is Arizona)
Free WiFi
Walk-in closets
Egyptian linen bedding
Beautiful, hand-carved furniture
Leather furniture
Cable TV
Free Parking
Hair blow dryer/Iron and Ironing Board/Coffee
Ample linens
Shampoo, rinse, razor, lotion, all beautifully arranged in a wrapped Egyptian towel
And after you've rested. . .
One on-site golf course and six others nearby
Four Hot tubs
Eight tennis courts
Three swimming pools
Spa – Steam room – Sauna
Hair & Beauty Services ( I broke a nail, and had it fixed in 10 minutes!)
Bar-Lounge-Cafe-Coffee Shop
Concierge service and specialty 24-hour exclusive concierge service
Nearby Attractions:
As mentioned, six other golf courses
Cave Creek Museum
Many art galleries and tourist-y shops
Cave Buttes Recreational Area
Equidome Arena
Desert Ridge Marketplace
Desert Hikes
Other miscellaneous  info :
Rooms start at $207.00/night, but considering the amenities, service and surroundings, worth it.
The Boulders accepts Visa, Discover, American Express and Diners Club cards.
Check in time is 3:00 P.M.  Check-out at 12:00 P.M.
Two Pets allowed – under 80 pounds. ( Dogs only).
34631 N. Tom Darlington Dr.
Scottsdale, Az 85262
Reservations: 1-866-257-5990