THE ENDLESS RIVER by Pink Floyd
Pros: Definitely sounds like Pink Floyd; a pleasant enough listen
Cons: A far,far cry from the group's best recordings
After forming in mid '60s, legendary and hugely influential British rock group Pink Floyd really hit their stride just after the true "psychedelic era," producing some of the most well-known and iconic albums of the '70s and indeed all time – 1973's Dark Side of the Moon, 1975's Wish You Were Here and 1979's The Wall among them. By the mid '80s however, tensions between bandmates David Gilmour and Roger Waters had escalated to the breaking point, and Waters left to pursue other projects. This effectively ended Pink Floyd's reign at the top of the rock and roll food chain, but singer/multi-instrumentalist Gilmour, keyboardist Richard Wright, and drummer Nick Mason carried on nevertheless. As might be expected, 1987's A Momentary Lapse of Reason and 1994's The Division Bell presented a group that was a mere shadow of its former self, and 2014's The Endless River, fifteenth and supposedly final album from the group, continues much in that same trend.

The band's original five-member lineup.
Made up of material recorded mostly during the sessions for The Division Bell, The Endless River plays like exactly what it is: a collection of outtakes. It starts out well enough, with a piece in "Things Left Unsaid" that creates a bright, glowing ambiance through its use of fluttering background tones and a trumpeting keyboard melody. This opener leads nicely into (the appropriately-named) second track "It's What We Do" which replicates the spaciness of older Floyd material and eventually unleashes a driving guitar solo. Accompanied by a super-smooth bass, relaxed drumming and resonant keyboard, the soaring, triumphant guitar work makes this a track that recalls Floyd's trademark songs from the 1970s. Unfortunately, after initially convincing a listener he might be in for something special, The Endless River loses it way, meandering through a series of inconsistent, purely atmospheric tracks that are nothing if not unremarkable.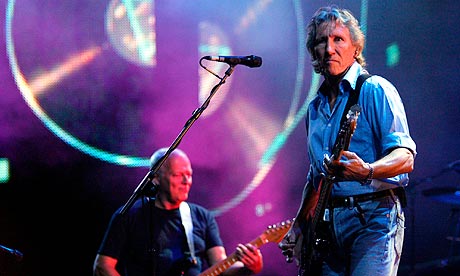 The tumultuous relationship between David Gilmour (left) and Roger Waters ultimately led to Waters leaving the group…and Gilmour embarking on a series of less-than-stellar Pink Floyd recordings.
Even if the more substantial "Sum" reprises the commanding guitar rock heard in "It's What We Do," there's not much to latch onto in tracks like "Skins," "Unsung," and "Anisina," the last of which, with its Kenny G sax solo, would almost be genuinely cheesy if not for its ethereal mood and use of transcendent vocal choir. "The Lost Art of Conversation" and "Night Light" abandon that more grandiose sound palette however and head right back into more ponderous (and frankly, dull) sonic territory, while the generic soft rock of "On Noodle Street" is downright embarrassing coming from a band that's perhaps rightfully regarded as one of the greatest of all time.

Later-era Pink Floyd – left to right, Wright, Gilmour, Mason.
The louder "Allons-Y" parts one and two seem like unused interludes from The Wall and may be the only tracks during the album's middle stretch which break up the monotony. They also just might interrupt the snooze a listener very well may be engaging in by this point in time. Meanwhile, as much as Wright's droning organ work in "Autumn '68" is impressive, the track is as fleeting and forgettable as most of the others here, and Talkin' Hawkin'" uses the same gimmick as Division Bell's "Keep Talking," sampling physicist Stephen Hawking's computerized voice as used in a British commercial. As things wind down, "Calling," "Eyes to Pearls" and "Surfacing" act as an extended introduction to album finale "Louder than Words," the only track to feature conventional vocals and lyrics. After waiting for the entirety of the record to hear a more song-like track, this last number is a definitive let-down. Essentially a facsimile of older material, this closer (and the album in general) suggests that a burnt-out Gilmour is all-too-willing to milk the Floyd name and formula to put a couple more dollars in the coffers.
In the end, the fact that a listener would have heard most everything heard here on previous Pink Floyd albums is actually not the worst aspect of The Endless River: it's the fact that Gilmour applies so little creativity and imagination to the established song formulas that's downright depressing. This mostly pointless, largely inconsequential album may as well have been produced by a random artist a listener stumbled across on the internet – slapping the Pink Floyd name on something so completely ordinary and uninspired is perplexing and most unfortunate given the band's reputation and legacy.  It's never a good sign when something like happens.
Though I liked the fact that the eighteen tracks here seem like one flowing, continuous composition, there's simply no overlooking the fact that most every listener would be underwhelmed or maybe outright disappointed by The Endless River – it may be satisfying as ambient music, but no one expects a Pink Floyd album to sound like anything even remotely resembling elevator music. Though it's easy to pick out parts that capture the flavor and sound of vintage and indeed classic Floyd, in between those highlights, the record farts around through a tiresome batch of instrumental tracks that simply aren't very compelling. Despite the fact that I toyed with the idea of handing Endless River a one star rating, it's far from being the worst thing I've ever heard. Still, this is a final chapter in a legendary career that probably shouldn't have been included in the first place.
Sample: