COMPUTER CONTROLLED ACOUSTIC INSTRUMENTS, PT 2 by Aphex Twin
Pros: Consistently interesting in terms of its composition
Cons: Very unconventional concepts of melody
It's a strange time to be a fan of British electronic musician, composer, and producer Richard D. James, who most often works under the pseudonym of Aphex Twin. For more than a decade, the once incredibly prolific James released virtually nothing, but since the long-delayed release of the self-titled Caustic Window album in 2014, the floodgates have apparently been opened. A new full length album called (my choice for album of the year) dropped in late 2014, and James has continued to release a veritable ton of previously-unheard music on . To be honest, I'm not even sure where to begin with regard to this almost intimidating deluge of material (some 150 tracks and counting), though it's a good problem to have after missing James' unique voice throughout the 2000s.
Though there was quite a bit of publicity surrounding Syro's release, the January 23, 2015 release of a (basically, self-explanatory) extended play called Computer Controlled Acoustic Instruments Pt 2 (there never was a part one) was a bit of a surprise – after all, two new Aphex Twin releases within a few months time would have been unheard of only a year ago. While Syro was an expansive, essentially fully-developed album however, CCAIpt2 is an almost fragmentary work that harkens back to a time in the early-to-mid '90s when James was in the midst of releasing a seemingly endless amount of imaginative and playful, occasionally outstanding material. As I'd expect from most everything bearing the Aphex Twin name, CCAIpt2 is nothing if not a consistently interesting and creative, well-produced album even if it doesn't rank among the artist's flat-out best.
It's good to know that while the electronic music scene circa 2015 is vastly different from the one in the '90s, Aphex Twin has returned to make lousy producers look bad.
Like many of James's other albums, the tracks on CCAIpt2 feature odd and sometimes unpronounceable names – which only adds to the overall strangeness of this album. "diskhat ALL prepared1mixed 13" is the discordant opening track, propelled by a tick-tocking beat and a groaning bass. Gurgling and flatulent, this first track already firmly establishes the jerky and almost sinister sound texture that exists throughout the album – particularly on the more substantial pieces. After a brief snare drum outburst, we get an alternate, even more jangly and burpy rendition of the opening number before a shorter, piano-based piece of arpeggios being slammed together. Robotic tinkling and moaning keyboard elements make "DISKREPT 4" a somewhat demented-sounding piece, while the next three tracks exist as slightly disjointed percussion experiments.

One can only imagine the amount of tweaking that went into this, or any, Aphex Twin recording.
Many of the tracks here seem to imagine what the malfunction of an elaborate grandfather clock might sound like, and several contain bizarre and sometimes creepy background ambiance – the sounds of children babbling or dogs barking for instance. I found myself looking over my shoulder a few times while listening to this album, and had to really study the mix to determine whether or not I was hearing ghosts.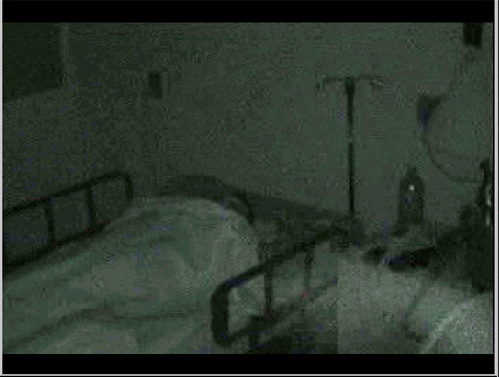 Who the hell knows what the title of "disk prep calrec2 barn dance [slo]" means (many James tracks have names which refer to software or equipment used to make them), but it's another track of throbbing bass, clanging rhythmic elements and sparse, unconventional melody. Following a further deconstruction of melody (on "DISKREPT1") and rhythm (on "diskhat2"), we get the almost obligatory piece that reminds a listener of James's considerable talents as a composer. "piano un10 it happened" is positively gorgeous, a simple yet intricate piano piece that's the complete antithesis of every other track here. This composition is well worth checking out even if the others here aren't to a particular listener's taste – and let's face it, not many people would really "like" this album if it comes down to it. Closing track "hat5c0001 rec-4" shuffles along to another grumbly bass line and clanking rhythm, sounding like what Trent Reznor of Nine Inch Nails might come up with if he tried his hand at making explicitly experimental music.
In the end, Computer Controlled Acoustic Instruments Pt 2 is the sort of blatantly experimental album that will be embraced by the mainstream music press in spite of its overt weirdness because the person who made it is reputable – and almost certainly a musical genius (I find it endlessly amusing that several of the same outlets that are championing this EP trashed James's similarly abstract 2001 album drukQs). As I've pointed out many times before, mediocre James is significantly better than most people's A-game, and I'd certainly rather listen to something unique like CCAIpt2 than a generic and tiresome pop record. Still, I can't shake the notion that both this EP and Syro feel like minor works when compared to things like 1995's I Care Because You Do or the following year's Richard D. James Album… to say nothing of the sublime "Come to Daddy" and "Windowlicker" singles or the two nearly flawless Selected Ambient Works albums. Maybe I'm hoping for the impossible, but I believe that James is capable of better than what he's shown in these two latest albums. While waiting for that next bona fide masterwork however, it's nice to have things like this EP to help tide one over. It's not essential, but it is worthwhile – particularly to fans of the artist.
Sample: