EXPEDITION UNKNOWN on Travel Channel
Pros: Entertaining and enjoyable, with some educational value tossed in for good measure
Cons: SURPRISE! The show doesn't conclusively prove anything
Premiering in 2007 and running for a full five seasons, Syfy Channel's Destination Truth can now be regarded as one of the best paranormal (and more specifically monster hunt) series ever produced. Centering on archaeologist/explorer/adventurer Josh Gates and his quest to identify mythical cryptids (i.e. unknown creatures) and uncover strange phenomena in various locations around the world, the show was part travelogue, part speculative documentary with its best trait being that it didn't bullshit its audience. If Gates and his revolving crew of companions didn't find anything, they didn't try and convince the viewer they did. Regardless of whether anything unusual was encountered on the average Destination Truth episode however, the program was consistently entertaining…and not nearly as moronic as the current wave of monster-related cable programming. Hell, you'd think DT was made for intellectuals when comparing it to the likes of Alaska Monsters, which serve up the lowest common denominator of entertainment.

Gates in Machu Picchu – there certainly plenty of subject matter for this new series.
In 2014, Gates confirmed that Destination Truth had in fact run its course after a couple year hiatus, but this wasn't the end of the line for Gates in the genre of the speculative documentary. I have to admit I was pretty stoked when I heard that Travel Channel had ordered a new series in which Gates would investigate various "iconic mysteries" (whatever that means) – the new show was entitled Expedition Unknown and debuted in early January 2015, with its first two-hour episode dealing with the search for clues in the disappearance of famed aviator (the first woman to fly solo across the Atlantic). Arguably one of the most widely-known and enigmatic missing persons cases in the world, the Earhart disappearance has captivated the public for more than seventy years: while attempting to fly around the world on an equatorial route in a twin-engine Lockheed Electra, Earhart and her navigator Fred Noonan vanished while flying from Papua New Guinea to small Howland Island in the Pacific. Despite a massive Naval search, no trace of Earhart, Noonan, or the plane has ever been conclusively found, leading to not only to endless speculation about her ultimate fate but also to numerous, conspiracy theories.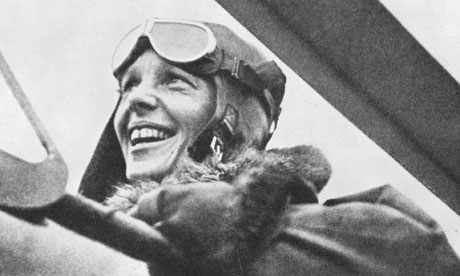 New evidence may solve the mystery of Amelia Earhart's disappearance. Or not…
Inspired by some "new" evidence, the debut episode of Expedition Unknown follows Gates on a journey to various Pacific locales in search of what may have been Earhart's final resting place. As mentioned, many theories exist about where Earhart's plane may have gone down – all of which assume that the official story that the plane was ditched and sank in the ocean near Howland Island was somehow false. In any case, Gates begins by investigating a theory stating that Earhart somehow circled back to Papua New Guinea and follows up on reports of plane wreckage in the remote jungles of the island nation. Despite the fact that stumbling on these crash sites would be akin to locating a needle in a haystack, Gates actually does find a downed plane – though it turns out to be a Japanese craft likely lost during the second World War. Continuing on, Gates scans the ocean bottom off the coast of the island of New Britain in search of other crash sites, locating additional WWII wrecks including one that appears to still have the bodies of its pilots strapped in the cockpit. The second major theory investigated in the episode examines the notion that Earhart and Noonan actually made it to uninhabited Nikumaroro island, where unknown human remains were discovered in the '40s and subsequently taken to Fiji for analysis. Attempting to locate these skeletal remains in Fiji, Gates is eventually led to the crawlspace under a house where he discovers human bone fragments…

Random bone fragments under random house in Fiji…wait a minute…THEY MUST BE AMELIA EARHART'S!
Like Gates' previous program, Expedition Unknown stands as a cross between a travel video that's filmed in exotic and and a speculative documentary centered around increasingly eyebrow-raising theories. Clearly, Gates and his production team have the basic formula for this show down pat: though the production seems somewhat more modest than what was featured in the typical episode of Destination Truth, Expedition Unknown is more polished and focused, at least in this initial episode. I rather liked the moments in which glimpses of the local cultures of Papua New Guinea and Fiji were seen as Gates continues his investigation; these sequences arguably provide the most memorable moments from the episode including one where a small but powerful earthquake strikes while Gates is conducting an interview with a native chief. Even if the moments in which Gates has to conduct some sort of "welcoming ritual" to be accepted by various local peoples seem quite cliché and, honestly, ridiculous, it's neat to be able to see how life operates in these remote corners of the globe nonetheless. Photography throughout the program is pretty outstanding and looks professional – especially compared to the shakycam overload that the majority of the reality/monster hunt shows on cable nowadays rely on. The producers and editors do a fine job of capturing the look and feel of the places Gates travels to, and I was particularly awed by images of the (smoldering) volcanoes which exist in the area around New Britain (an island in Papua New Guinea).

Places I'd rather be: this show features many of them.
As was the case in Destination Truth, Expedition Unknown goes out of its way to not only hold a viewer's interest, but also to keep him entertained. There's plenty of humor present in the program – most of which comes from the quick-witted commentary of Gates himself. Perpetually good-natured with a never-ending enthusiasm, Gates is the ideal host for a program like this, ensuring a viewer remains captivated throughout since he puts forth a nice balance of more light-hearted, comical material and cold, hard facts. One could easily point out that nothing overly dramatic or mind-blowing happens during the course of this initial episode, and I don't think I'm spoiling the show by saying that Gates doesn't conclusively prove anything relating to Earhart's disappearance. Nevertheless, the editing of the program generates a nice sense of forward momentum while emphasizing a few minor cliffhangers (which conveniently appear right before commercial breaks).

What would a globe-trotting documentary be without the obligatory "I must become one of the tribe" sequence?


On the downside, those looking for a more straight-forward, "lets stick to the facts" program will likely be less-than enthused about the format of this show. Clearly, this show is more entertainment than education, though it's excellent as a combination of these two things – a viewer does get a crash course history of Earhart's life and flying career for instance. I could also point out that the episode's final segment – in which human remains are uncovered in the foundation of a Fijian residence – in all likelihood has absolutely nothing to do with the Earhart disappearance. To some extent, I can see how more outrageous, sensational material like this is almost necessary in modern speculative documentary programming (how else could the comparatively sober and documentary-like Expedition Unknown compete with the likes of the ridiculously absurd Mountain Monsters and the like?), but throwing in this climax that seems to have little to do with the subject of (or frankly, the rest of ) the episode nonetheless remains somewhat sketchy. Finally, I should point out that this show (like Destination Truth before it) sometimes feels like one big ego trip for Gates, showing how "cool" and "hip" he is. Over time, I think one warms up to the host, his humor and style, but I could see some people being turned off by his approach (as I was when I first saw Destination Truth years ago).Who knows what future episodes of the series will bring, but I'm cautiously optimistic.
Ultimately, the problem with this show (and many others of its kind) is that no major revelation comes out of it – but that's strictly par for the course these days. Expedition Unknown is perfectly agreeable for what it is: an entertaining and enjoyable program that attempts to shed light on mysterious places and events while following its host around the world. It may be too jokey for some, but I think this show has just the right amount of fun and fact, making its subject matter tolerable for those who wouldn't otherwise watch an "educational" program. I'll be interested to see what direction this first season heads in since there are so many potential topics out there for the show to explore, but at this early juncture, I'm calling the series worthwhile and recommended.