SUICIDEGIRLS: UK HOLIDAY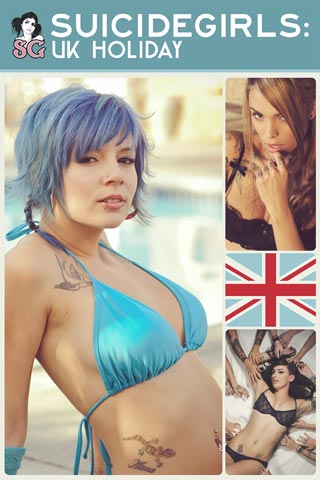 Pros: Attractive women; cool music; nice photography; slick editing
Cons: A few
Launched in 2001 as a platform to present softcore pin-up photos of "alternative" models (i.e. ones who don't quite fit in with traditional standards of what women should look like, often due to the fact that they have elaborate tattoos and/or piercings), the SuicideGirls brand has grown increasingly popular over the years and ultimately branched out into other things aside from the pay website which has always been its focal point. The fifth SuicideGirls video production entitled UK Holiday was produced in 2012, and after the more playful and comedic and the reality horror movie which both debuted in 2010, seems more a throwback to the earlier and DVD releases which were essentially video centerfolds.
UK Holiday documents a week long photoshoot that occurred at a remote English mill that has been converted into a weekend home. Some thirty models from around the globe traveled to the location to meet and mingle with other SuicideGirls and also produce their own photo sets shot around the grounds. SuicideGirls photo sets are made to be a reflection of the interests and personality of the models featured in them, thus each girl seen in the DVD which chronicles the UK getaway more or less got to determine at least some aspects of how their centerfold was designed and photographed. Many of the photo sets featured here are more realistic in nature, but a few have a more fantasy-like look about them, and while there's no explicit sexuality seen in this DVD, there's a lot of suggestive posing and some light lesbian activity.
The cinematography by Aymeric Montouchet revolves around slow pans and gentle camera moves, and the editing during the program is quite slick, often combined with subtle digital effects to create a dreamy vibe. Various music cues from a variety of mostly unknown music acts are incorporated into the program nicely to compliment the mood that the various models are seeking in their individual sets. Given the fact that many of these women sport tattoos and piercings, one might think the soundtrack would be more aggressive, but it's actually very relaxed and chilled out – I'd probably label most music here as falling into the indie electronic genre. As might be expected, the focus of the DVD program is clearly on T&A nudity, with the camera lingering on images of bare breasts and buttocks. Director Mike Marshall has been around for every SuicideGirls DVD release, and is an old hat at making these films look more classy than might be expected in the world of soft porn – the SuicideGirls product has much more in common with what is regularly seen in the more upscale Playboy magazine than what one would find in the more explicit and/or trashy Hustler or Penthouse.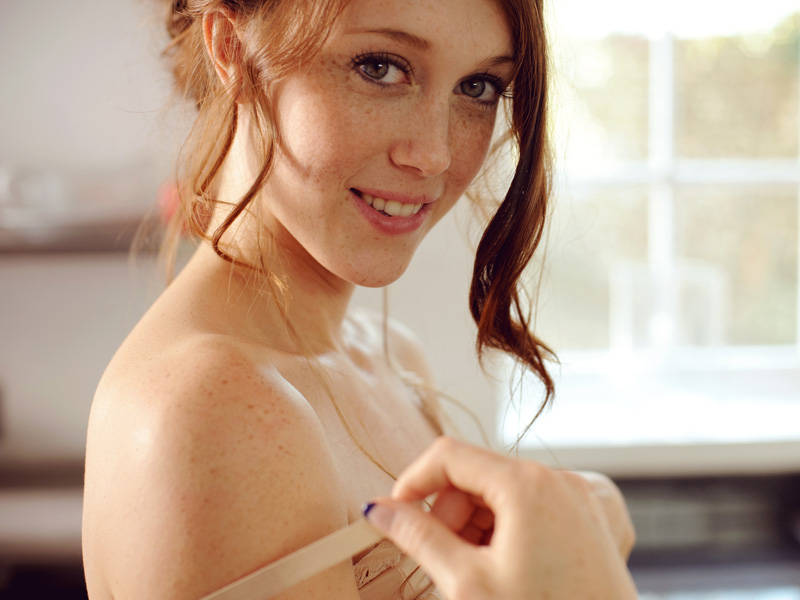 One of the things that has made SuicideGirls stand out from other modeling sites out there is the fact that they've embraced models of various ethnicities and body types. The women featured in UK Holiday come from a wide range of countries, and each of them get to personally introduce their photo set. This allows the viewer to get some insight into their various personalities and thought processes, and it's pretty interesting to hear about their motivations for becoming a SuicideGirl and posing naked. A few of the models here fall in with what I might label as the "Goth crowd" and many are pale to the point of looking like they haven't seen sun in years, but overall, they seem like your average girl next door types who just happen to have tattoos and maybe don't try and fit in with the crowd. I actually find this quite refreshing in a society that's grown to have a very specific look in mind when selecting models for advertisements and the like, and provided a viewer can accept the heavy amounts of ink and piercings that these girls are sporting, all of them are very attractive and often quite cute. I should point out that for most of these women, "body art" is probably the more accurate way of describing their tattoos: they clearly aren't of the jailhouse variety.
Along with the photosets, brief glimpses of everyday life around the mill are seen, and there are some short humorous vignettes that show the girls having fun during this UK Holiday. One that stands out is an outing in which several girls ventured to a local pub to perform karaoke: one can only imagine what the reaction was in this sleepy town when a group of rambunctious young women entered the local tavern. A few of the photographers and behind the scenes crew also gets to speak about their approach to the material here: the producers of the program have clearly gone out of their way to give everyone involved a chance to speak their mind, even if only eighteen of the thirty or so girls who traveled to the mill are featured in video centerfold sets.

One thing I did notice about the program is that it seems to have been made from the perspective of a fourteen year old male – UK Holiday makes a deliberate effort not to include any below the belt frontal nudity. This seems rather odd considering that lower nudity is presented without reservation in the previous SuicideGirls DVDs and on their website, and may be disappointing for some viewers who may have been expecting a more well-rounded amount of exposure. It does ensure however that this program would generally fall in line with the standards of an R-rating.
All in all, SuicideGirls: UK Holiday provides what I suspect most viewers would want: a substantial amount of nudity from a wide array of attractive women. In terms of what those familiar with the SuicideGirls brand would want, this program offers a bit of everything, is substantially arty rather than exploitative and trashy, and is put together very well. Obviously, UK Holiday wouldn't be appropriate for nor of interest to every potential viewer out there, but it's outstanding for what it is. This is about as good a cheesecake release as one will get in the 2010's.
Limited Edition DVD or Blu-ray is available directly from the SuicideGirls website. Also available as a digital download.
0/10 : No violence.
2/10 : Fleeting instances of strong profanity.
10/10 : FAPTASTIC! Loads of nudity from attractive "alternative models."
8/10 : Women with tattoos and piercings getting naked. And there's a lot of them.
Food for thought: "I suppose there's still going to be some kind of stigma attached to women with tattoos. I think that's a shame, but in a few years' time, that shouldn't be the case."