UFO CONSPIRACIES on Science Channel
Pros: This topic always fascinates
Cons: Recycled stories; lazy formatting; lack of any evidence; over-reliance on narration
The latest entry in a genre that's become a staple of cable educational channels, Science Channel's UFO Conspiracies is yet another program dedicated to exposing various incidents involving unidentified flying objects. Since there have been so many undeniably similar shows of this nature over the years, the main thing that I'm looking for in a new UFO-related program is new, previously unheard information. While History Channel's Hanger 1, arguably the best UFO/alien-related show currently airing, does provide information that I hadn't come across before however, UFO Conspiracies seems like a complete retread, one that's quite content to regurgitate various stories that have been covered elsewhere. As such, it would by and large be worthless for UFO enthusiasts: most viewers would have heard these stories before.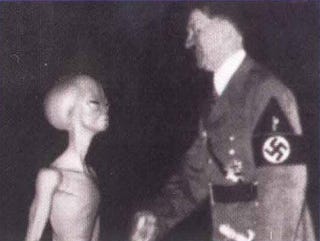 …now THIS is a UFO conspiracy…
The initial episode of the program (aired on November 19, 2014) presented a trio of UFO reports, and it appears this is how most/all episodes of the show play out. First off, we have an incident from 2008 in which a large, fast-moving unknown craft was pursued across the Texas sky by a pair of F-16 fighters. Though investigators from MUFON (the Mutual UFO Network, probably the most comprehensive and well-structured UFO investigatory board) acquired radar footage that seemed to corroborate the stories of various eyewitnesses who saw this event, the Air Force has repeatedly denied that such an incident took place, relying on the tried and true methods of explaining what people saw. Next up, we've got a story from Peru, in which a group of journalism students investigating the sightings of strange lights in the Amazon actually wound up filming them. This segment is the only one presented that actually presents video evidence to document its story, but I simply didn't find the story all that compelling. Finally, we've got the somewhat more interesting story of the disappearance of pilot Frederick Valentich off the Australian coast in 1978. Valentich had reported an unknown craft in the area surrounding his small one-engined plane while flying over the ocean, but shortly thereafter, disappeared without a trace, leaving behind only a mysterious final radio communication in which grating metallic sounds were heard.

Newspaper reporting Valentich's disappearance.
As is normally the case in these types of shows, the stories in UFO Conspiracies are related to the viewer with the help of reenactments along with actual eyewitness accounts. The format of the show is entirely unexceptional, and I think the worst element of it is the over-reliance on the frequently cryptic narration of John Schwab. Schwab's third-party descriptions of the events detailed in the program are featured much more than any of the actual first-person accounts, which makes it seem like the show is force-feeding the viewer information instead of allowing him to make up his own mind. It also seems pretty obvious that the producers of this show are skeptical about UFOs since a significant amount of time is devoted to providing alternate explanations which debunk the possibility that unknown craft were involved (I could almost argue that this is amount the few alien conspiracy shows that more tries to debunk the extraterrestrial hypotheses rather than confirm them or at least leave the door of possibility open). This approach seems definitively odd even if it does ensure that UFO Conspiraciesis more objective than normal for a program of this nature. I would suspect that the vast majority of viewers would want this show to be more ambiguous in its conclusions rather than providing an "easy out" of sorts. Sure, these incidents may be explained away by helicopters, flares, and military aircraft, but let's face the facts: people watching a show called "UFO Conspiracies" want to hear about aliens living on military bases, men in black threatening witnesses with corporal injuries, and secret government files buried in a vault in central Wyoming.
More damning than the condescending tone of the program though is the simple fact that I've heard every story presented in this first episode before in other UFO-related television shows. It really seems as though UFO Conspiracies was thrown together hastily using very accessible, well-documented, and well-known UFO cases – the Valentich disappearance, for instance, was covered more comprehensively in the past year or two on Science Channel's significantly more worthwhile The Unexplained Files. Combine this fact that nothing presented would be new information for what I would assume would be the show's target audience with the fact that the program actually downplays the element of the unknown that exists in these stories, and UFO Conspiracies winds up as a show that alien conspiracists would not only be bored by, but actually scoff at.
I'll just leave this here…
I admit it: I certainly believe in the existence of extraterrestrials (it would be pure ignorance to assume that humans are the only intelligent life in the infinity of the cosmos) and even think there's something strange going on in the skies here on Earth (as Finding Bigfoot's Bobo says: "I've seen 'em. They're here," though I don't claim to have any idea what "they" are). It's likely there will always be a place for shows like UFO Conspiracies since these sorts of topics do capture the imagination of myself and incalculable other people out there. No attempt has been made on the part of the show's producers to bring any amount of freshness to a now-tired formula; In Search of… debuted in 1977 after all and the format of the "speculative documentary" hasn't significantly changed since then. UFO Conspiracies really has nothing to offer the viewer other than a semi-tolerable time-waste. Due to the absence of actual evidence, there's a noticeable lack of credibility and the entire show seems lazy. Skip it.