THE CURSE OF OAK ISLAND on History Channel
Pros: The Oak Island Mystery!
Cons: Reality TV moments; simply isn't all that compelling
In 1795, eighteen year old Daniel McGinnis stumbled upon something off the coast of Nova Scotia on . Seeing evidence of a recent dig, McGinnis and some companions began excavation of the site and eventually came upon a shaft which has become known over the years as "The Money Pit," both because it's rumored to have treasure at the bottom of it and because of the amount of money that various persons have invested in an attempt to discover said treasure. In 1803 and after having reaching a depth of 90 feet, a stone bearing a mysterious inscription (believed by some to have read "forty feet below, two million pounds lie buried") was found in the pit but shortly thereafter, the entire shaft began to fill with sea water, as if the excavation had tripped a booby trap set by the original diggers. For the past two hundred years, Oak Island has been the site of numerous treasure hunting operations which have littered the island with holes, destabilized the ground, and destroyed most of the potential clues relating to the site, but this hasn't stopped people from dreaming about what may potentially lie buried on the island.
One of the many holes dug into the island over the years.
In early 2014, History Channel premiered a new program entitled The Curse of Oak Island in which a multi-person team led by brothers Marty and Rick Lagina, who effectively own half the island, attempt to discover just what lies hidden there. Set up as a reality show that chronicles efforts not only to uncover the truth behind various legends relating to the Oak Island mystery but also detail the excavations and digs taking place there, The Curse of Oak Island revolves around the notion that the island is cursed. Six people have died while excavating in and around The Money Pit, and legend has it that one more must perish before the treasure can be uncovered. Can we expect high drama at some point in the show's run? Only time will tell…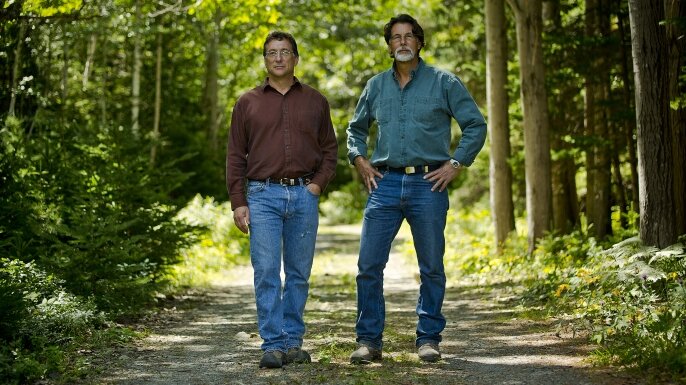 Marty and Rick Lagina. The show's all about them – and they let a viewer know it.

During the show's first season, Marty and Rick mainly went about draining a mysterious, triangle-shaped swamp and exploring a man-made cove on the island. While there wasn't much progress in actually discovering any treasure, the team did make a few tantalizing finds – notably, a large amount of coconut fiber which apparently was used as fill material in the creation of the cove and additionally, a 17th century copper coin. Since there are no coconut trees on Oak Island, the fiber is an indication that perhaps the legends of Caribbean pirates traveling to the location may in fact be true, and the appearance of the coin seems to corroborate the story. Season two of the show picks off right where the first season ended, showing Marty and Rick preparing for another digging season on Oak Island. As expected in any reality show, there's plenty of turmoil and potential problems relating to their operations, one of which is a piece of government legislation that would put an end to any and all treasure hunting on site. Furthermore, the team runs into problems when attempting to use a incredibly heavy drilling rig to find the location of either the original Money Pit or one of the many subsequent so-called "seeker shafts" that were constructed in an attempt to locate a supposed treasure vault that's rumored to be situated at a depth of around 140 feet underground.

Memorial to those who perished while seeking the Oak Island Treasure, but will a seventh name be added?

Obviously designed to be entertainment on some sort of level and having a premise that is undeniably seductive and fascinating, The Curse of Oak Island is a well-produced and tightly constructed show, yet it suffers from being yet another program on a presumably educational channel that I can't in good conscience entirely trust. The reality show format means that there seems to be an awful lot of manipulation going on with how the circumstances happening on the island are related to the camera and presented for the viewer, and the fact that no significant news stories have been put forth about this excavation only solidifies for me that much of what is going on here may in fact be fabricated or at least not entirely authentic. The lack of news coverage also makes it tough for me to believe that much of anything significant will ever be found on Oak Island, and therefore this show doesn't so much seem to be working towards a monumental discovery as just serving as a semi-agreeable time waste.
What treasure lies at the bottom of these semi-collapsed shafts?
Keeping with the traditions of the many borderline ludicrous "documentaries" on the History Channel (I'm talking about you American Unearthed and Ancient Aliens), The Curse of Oak Island focuses a large amount of attention on some rather cockamamie ideas about what actually is buried on the island and who put it there. These theories involve everyone from the Templars, to famous Caribbean pirates, to the English government, to the ancient Phoenicians, and early in season two, Marty and Rick entertain an idea proposed by treasure hunter J. Hutton Pulitzer that treasures from King Solomon's temple (such as the Ark of the Covenant) may have been hidden on Oak Island. Theories like these are a staple of programs like Ancient Aliens, and at times, it almost seems like the purpose in including ideas like this in History Channel shows is simply to name-drop and thereby give some sort of credibility to programs that in no way shape or form deserve it (not helping matters is the fact that Curse is produced by the same company as Ancient Aliens and narrated by Robert Clotworthy, who also provides the frequently goofy and obnoxious commentary for that show).

Sludging away in the Oak Island Swamp.
I should at this point say that the most enjoyable thing I get out of this show is watching Marty and Rick Lagina (who aren't especially compelling or even likable as main characters) fail in their efforts to find anything on the island. Millions upon millions of dollars have been blown at Oak Island over the past few centuries, and I'm not entirely sure that the Lagina's money will be enough to uncover anything. That the Lagina's whole problem-solving approach seems to be to throw boatloads of money at the issue until it works out only makes it even more gleefully satisfying to see when they don't get the results they want. To be completely honest, while it'd be interesting to see what exactly the ultimate secret of Oak Island really is, I don't at all wish to see a historical discovery be made by this group of whining and almost cocky treasure hunters who (despite their claims to be "respecting history and Nova Scotia"), have made no effort of adhering to archaeological standards. Hell, the group of people featured in this show (which also features several life-long Oak Island excavators such as Dan Blankenship and his son Dave) would probably be as likely to destroy something they found through sheer incompetence than to actually recover it.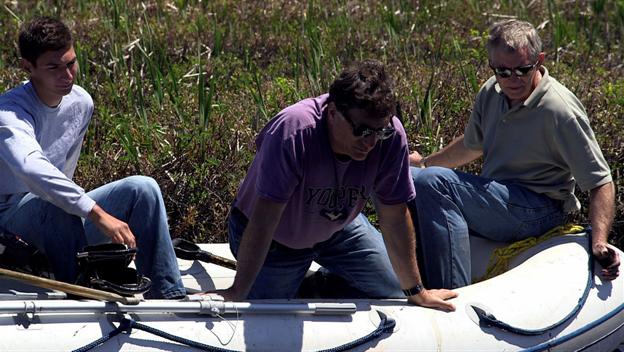 Can seemingly endless cash reserves finally solve the mystery of Oak Island?
Having been rather familiar with the Oak Island mystery before watching this show, I find the most intriguing thing about it to be the brief historical segments relating to the discovery of the pit and the various excavations that have occurred on site. The Curse of Oak Island makes use of some wonderful archival materials and occasionally reveals some captivating stories from the island's history, but nothing can quite make up for the fact that, when taken individually, none of the episodes of this program are all that exciting to watch. Painfully dull at times since there's very little honest humor on display, the program also suffers from the fact that the situation featured here simply doesn't have much tension despite the many, phony cliffhanger moments set up through a slick editing scheme. Though I'll sit through most any of the current wave of documentary-like reality shows dealing with mysterious circumstances or phenomena since I enjoy these sorts of subjects, Curse of Oak Island has to be one of the most boring of the lot. I'd say it's something that most people would be better off skipping – at least until something legitimately valuable is discovered.