MONSTERS BEHIND THE IRON CURTAIN on Animal Planet
Pros: Well-organized; interesting variety of subjects; more level-headed and objective than is usual for this type of program
Cons: It's a speculative documentary: some folks just won't appreciate it; sensationalist title doesn't represent the material very well
Refreshingly straight-forward in both its presentation and in the various hypotheses it proposes, the two-hour special Monsters Behind the Iron Curtain, which premiered October 26, 2014 on the Animal Planet Channel, stands in stark contrast to increasingly manipulative (and goofy) programs like the previous year's Russian Yeti: The Killer Lives which handles some of the same subject matter. Directed by Gareth Sacala, Monsters Behind the Iron Curtain operates in much the same manner as an episode of Monsters and Mysteries in America in that it features discussion of a half dozen or so stories of the unknown which originated in and around the former Soviet Union. A few of these stories specifically involve the existence of unknown creatures which seems to be a very popular subject on television these days, but the majority deal more generally with unexplained phenomena.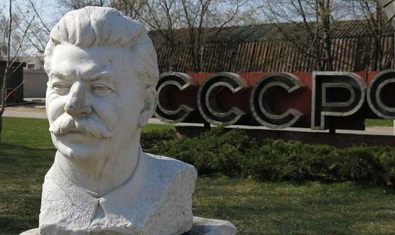 Subliminal messaging: is this the REAL monster behind the Iron Curtain?
The program starts with what in my opinion is its most interesting segment, one which seems to have been pulled straight out of the pages of Dark Matters: Twisted but True: a brief examination of the history of rather unorthodox experiments that took place in the Soviet Union during the 1920s. While researching how organs were controlled by the brain and functioned, scientists and developed the basic techniques by which organ transplants are conducted today, yet hearing about how this duo not only kept the hearts and whole heads of dogs alive after they had been separated from their corresponding bodies, but also created two-headed animals and very nearly reanimated a dead human suggests these scientists may have been willing to push the boundaries of science a bit too far in the name of progress. What's more shocking perhaps is that even though the former Soviet Union has released some files relating to these experiments, it's unlikely that anyone will ever really know how far these experiments went. After viewing some of the actual film footage seen here (which includes images of a heart beating independently of its body, one dog's head being kept alive in a metal bowl and another animal having to fight off the snapping jaws of a second head that's been grafted onto its neck), I'm not sure anyone would really want to uncover the true extent of these experiments even if the knowledge gained has proven to be invaluable.
WARNING: GRAPHIC! Footage of dog head grafting experiments.

From here, Monsters Behind the Iron Curtain goes through an intriguing, if fairly typical collection of segments and stories, some of which seem more outrageous then others. A viewer hears about the legend of the , a subterranean creature who's said to spit venom and be able to conduct electricity and delves into the legend of the so-called "" which exists in the remote Siberian forest. This plot of barren land apparently causes death and misery to anyone who ventures near it, leading scientists to debate its true nature as the site of a possible underground fire or maybe even the location where meteoric debris has settled. A from the Caucasus Mountains in which a group of mountaineers was severely burned by an unknown ball of light is investigated, as well as a in which a young medical student attacked fourteen women, killing four. In the wake of the attacks, it was speculated that the man was possessed by a demonic spirit called a , a being which appears to have been at least partially responsible for the modern idea of the vampire. It's almost expected that a program of this nature at least briefly focus on some sort of Bigfoot story, and this is provided in the form of an examination of the Russian Wildman. The documentary concludes with a substantial inquiry into the fascinating and enigmatic in which nine mountaineers were killed under mysterious circumstances while skiing in the remote Russian wilderness in 1959.
Remains of one of the Dyatlov expedition members. Half the mountaineers died from incredibly traumatic injuries which, according to official government reports, were caused by "a compelling natural force."
Along with a steady narration provided by Eric Myers, Monsters Behind the Iron Curtain is told largely through interviews with various researchers and investigators and occasionally, the actual people involved first-hand in the stories. Throughout the program, we have a number of well-handled recreations of the situations discussed which hammer home the subjects the talking heads are discussing. I think one of the best things about the program (as mentioned) was its use of sometimes gruesome and disturbing archival film footage and photographs. Some of the segments here are largely recounted through dialogue, but there has been an obvious effort made to add credibility to the eyewitness accounts and people making them whenever possible. Keeping in mind the undeniably sketchy evidence usually presented in these types of shows, I'd have to say that Monsters Behind the Iron Curtain does a fine job of honestly presenting its information. I also appreciated that the program doesn't automatically go for the jugular and force the viewer to buy into some very outlandish explanation for what's occurring in these stories. The program for instance proposes that the mysterious ball of light was actually the incredibly rare meteorological phenomenon known as ball lightning, which actually seems plausible in this circumstance, and the Dyatlov incident segment focuses on the notion that a top-secret parachute mine test caused the deaths of the mountaineers. Generally speaking and as might be expected, this documentary doesn't come up with any real answers, leaving it up to the viewer to make up his own mind with regard to these cases. I thought this sense of ambiguity was welcome when the vast majority of crypto-reality TV shows jump to wild conclusions in five minutes or less.

Artist's rendering of the Mongolian Death Worm.
Even if it takes this program less that twenty minutes to conveniently introduce Idaho State University professor Dr. Jeff Meldrum (who shows up in virtually every Bigfoot-related documentary to explain that yes, there is a possibility that previously unknown creatures do exist in the world – just in case anyone needed that point reinforced) as the obligatory "voice of reason" to add some sort of scientific seal of approval for what's being proposed here, Monsters Behind the Iron Curtain is easily a more level-headed and ultimately better program than dozens of vaguely similar shows that have turned up in the last couple years. Compared to outright fabrications like the Russian Yeti, Megalodon, or Wrath of Submarine which choked viewers with phoniness, this one at least attempts to remain neutral and objective, simply presenting information in much the same manner as a program like Unsolved Mysteries. For that alone, it deserves commendation in an era where sensationalism goes a long way in making a program stand out from the crowd. Monsters Behind the Iron Curtain obviously wouldn't be counted among the greatest documentaries of our time, but it's well-done for what it is and should please viewers interested in the paranormal. Recommended.