KILLING BIGFOOT on Destination America
Pros: Fairly serious and more credible than the lot of similar programs
Cons: Everything is very familiar and I simply can't for the life of me condone this show's message
With the current, rather pathetic wave of cryptozoological (read: monster) related reality television shows coming to an end and a few weeks before the new season of Finding Bigfoot starts, it was only a matter of time – a week to be exact – before the Destination America channel's next monster show would turn up. Unfortunately, as this genre as a whole has become ever more phony, goofy and unbelievable, Killing Bigfoot, which premiered on Friday, October 24, 2014, appears to be deadly serious – and, in my opinion, completely reprehensible. Following the exploits of another acronym-defined paranormal research group (the GCBRO – Gulf Coast Bigfoot Research Organization; they have their own hats so that means that must be legit), the show attempts not just to find one of the hairy, bipedal apes rumored to exist in the woodlands of Texas, Lousiana, and Arkansas, but kill one of the creatures to prove their existence once and for all.
Yes, as one eyewitness points out with regard to the unknown hominids, "most people just let 'em be." Not our gang of trigger-happy bayou folk. That's just not how they roll…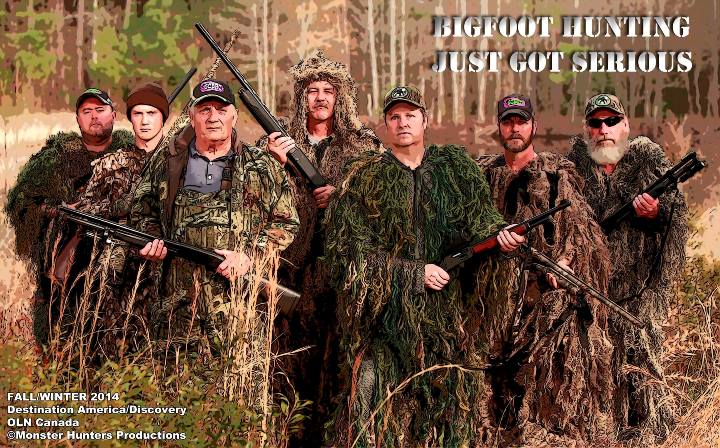 Working off the same pattern that led to shows like Mountain Monsters, Swamp Monsters, Monsters Underground, and Alaska Monsters (UGH! – that has to be one of the worst quartets of shows imaginable), Killing Bigfoot begins with a brief, stylized introduction to the eight-man team the program revolves around, a group of "vets, ex-cops, and hardcore woodsmen" who are shown in the opening montage cocking huge shotguns and blowing away paper targets shaped like the (in)famous . Multiple people featured in the show are identified as "snipers," while a few – including one fella who's name is given as "Grumpy" – are given the task of "investigator"; hell, I was cracking up imagining that the show existed as a deranged version of Snow White and the Seven Dorks. Mainly, this crew goes about the normal monster investigation routine – interviewing witnesses, looking for proof in the swamps and forests of western Louisiana, and conducting night investigations that tread suspiciously close to looking like what one would find on the typical hunting program since they involve multiple people traipsing through the woods with shotguns at the ready. What's shocking about the show is that, unlike the increasingly preposterous monster-related shows on Destination America channel, the characters…er people featured in Killing Bigfoot don't seem to believe they're part of an ongoing hoax or comedic program. These guys really are trying to kill a Sasquatch.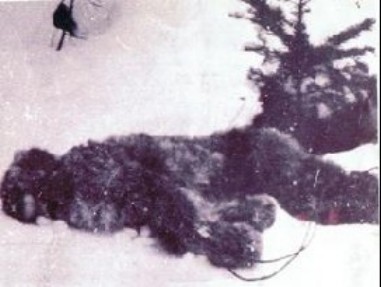 Leave it to Texas to declare that it's legal to kill Bigfoot…
Right there, I'm already on the verge of writing this program off on principle alone. To me, that this group of supposed investigators' first response when encountering an unknown creature – even one that reportedly is mighty similar in both appearance and behavior to human beings – is to "bag it and tag it," is disgusting. It's this kind of pompous, gung-ho attitude that has caused many problems in recent years (read into that what you like), and it's about the most unscientific, irresponsible thing I've ever heard when mentioned in regard to the existence of unknown creatures. Sure, a Sasquatch corpse likely would silence all the critics – but I can't in any way, shape, or form condone the wanton killing of an unknown creature just to prove its out there. In all likelihood, if these creatures do in fact exist (in which case, their habitat is rapidly decreasing due to human population expansion), they're incredibly rare and by eliminating a breeding member of their population, the survival of the species as a whole is potentially put in jeopardy. All one has to do is examine the history of the , or to see what effect the kind of mentality put forth in this show can have on the animal kingdom.

I know Harry…I know.
By autumn 2014, television producers are old pros at making programs of this nature and the ultimate flaw of Killing Bigfoot (aside from its careless main theme of shoot first, brag about it later) is that everything here is painfully familiar. Despite that, I have to admit that this program seems substantially more credible than the likes of Mountain Monsters/Swamp Monsters/Alaska Monsters. First of all, the GCBRO members here don't just conveniently stumble into the path of the creature they're seeking: though the show's narrator informs us that there are "signs of the creatures all around," we never get any proof of Bigfoot's existence – or a massive, fabricated pursuit of an unknown beast during the episode. This, in my mind, is indicative of the fact that the producers are at least to some extent attempting to make a more factual, level-headed program whose primary goal is not necessarily just to shock a viewer with how asinine the whole production is (as seems to be the case with most other monster shows).

Um…just what is that?
Refreshingly, though the show may feature some of the worst sighting reenactments I've ever seen, not one character featured in Killing Bigfoot falls in line with being labeled as the goofball, "wild card" or loose cannon (i.e. the , , or character) – this gang seems dead serious, although this has repercussions in the long run. Namely, the show is nowhere near as entertaining as some of its other, unbelievably ludicrous monster-hunting kin. There isn't a whole lot of camaraderie on display between team member and there aren't obvious jokes and wisecracks being traded around continuously – hell, if I didn't know any better, I'd say the GCBRO was made up of people who hate each other even if they are rather civil about it. As might also be expected, the climactic "night hunt" sequence is pretty low-key – not much of anything happens and the show's conclusion is more or less ambiguous (even with the obligatory cliffhanger).

Told you – the GCBRO has its own line of stylish caps. It's gotta be a legit organization, right?        RIGHT???!?

Ever since Mountain Monsters changed the very nature of the crypto-reality show through the use of obvious fabrication, I've been wondering if any producers of this type of program would have the balls to make a show in which a monster wasn't instantly, inexplicably found and chased down. Dumb as it is, watching a group of actors … I mean "monster hunters" … stumble around in the dark chasing phantoms has its appeal on a purely stupid level. As some have pointed out in the commentary on my no star review of Alaska Monsters, watching the show is like looking at a car crash – and the statement is true. I've just never quite come to terms with the fact that in order to watch these shows, I had to give up an hour of my life that would be MUCH better served doing something more rewarding and/or worthwhile. Problematic though it is in many, many ways, Killing Bigfoot to its benefit doesn't automatically assume its viewers are morons looking for supposed entertainment of the lowest, most idiotic variety (and let's be honest – most of these monster shows are designed for people who would watch just about anything if it was on TV). In a way, I appreciate its serious tone and apparent focus on faux-authenticity – no documentary can ever be entirely objective, but this show seems vastly more reasonable than many similar shows and for that it deserves some measure of credit.

Just what we need: another monster show, and another bunch of gun-happy "investigators" trying to shoot phantoms…and each other.
Try as I might however, I don't think anything could ever make up for this show's main premise as it goes out of its way to pursue its own, unreasonable agenda: when you've got multiple persons attempting to convince a viewer that Bigfoot should be killed to protect the residents of Louisiana…and GASP! their grandchildren…I could do nothing except shake my head at the screen. This type of blatant and unfounded paranoia-inspiring fear-mongering is dangerous in terms of what affect it has on viewers and one of the main problems if not the main problem with American media. Is it really us humans who should be afraid of Sasquatch, a creature which, if we're to judge upon reliable evidence, has never posed any serious threat to people? Or is it Sasquatch who should be afraid of us, a species who not only randomly kills virtually every other animal on earth, sometimes purely for sport, but even kills members of its own species for the most fickle reasons imaginable? You be the judge. I'm giving Killing Bigfoot a half a star and I'd urge most viewers to avoid it.
from on .