ADIÓS, SABATA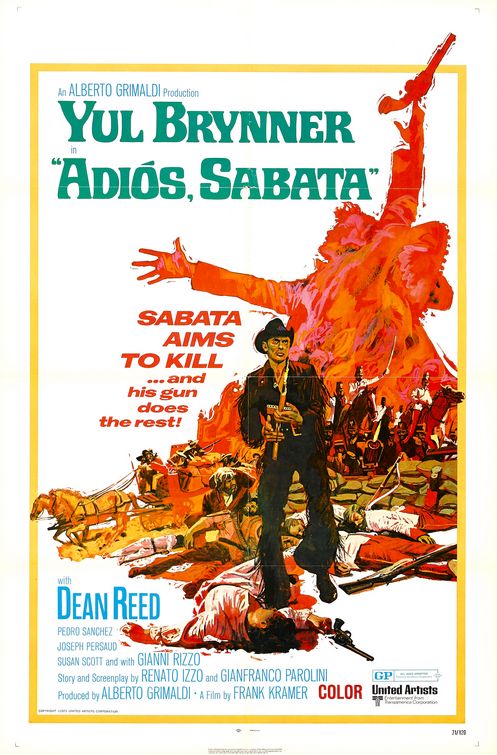 Pros: Memorable ending, quirky details and a nice sense of scale
Cons: Extremely familiar story that makes it very nearly a remake of the first Sabata film
The somewhat strange middle entry in the Sabata Trilogy, 1970's Adiós Sabata sees actor Yul Brynner take over the title role from Lee Van Cleef (who coincidentally couldn't do this film because he was replacing Brynner in a Magnificent Seven sequel). This time around, the titular gunfighter joins forces with Mexican revolutionaries and an prankster American named Ballantine to steal a wealth of gold from an Austrian colonel hiding out south of the US border. Predictably, the plot to capture the gold (initiated by a guerrilla leader who's trying to fund an uprising against Austrian emperor Maximilian I) doesn't go exactly to plan – after capturing a wagon supposedly transporting the treasure, Sabata and his partners discover that they've been fooled into stealing a cart full of sand and are forced to come up with a more decisive plan of attack. This eventually leads to an all-out assault on the colonel's fortress, but can Sabata really trust any of his sneaky co-conspirators considering that they all have their own motives and ambitions?

Sabata (in all black) discusses his plans with his compadres.
Compared to the first Sabata film, this sequel is probably a more serious affair, mostly due to the fact that Brynner takes an entirely different approach to the main character than did Van Cleef. While there was a playfulness to Van Cleef's Sabata, an almost emotionless Brynner (sporting an all-black get-up and a continual scowl) is all business in the part and definitively appears like the more typical (and hence, somewhat tiresome) Italo-western protagonist. Due to his stoic performance, the tone of this sequel is a bit off: the same team of writers (Renato Izzo and Gianfranco Parolini, who also directed) wrote both these films, the first of which played almost as a tongue-in-cheek parody of the Spaghetti Western genre. Adiós Sabata, originally planned as a standalone film dealing with a character named "Indio Black," never quite seems to decide whether it wants to be a more serious film or a comic one. Parolini and Izzo throw in quite a few slightly offbeat and/or goofy details, but Brynner's no-nonsense attitude doesn't really allow a viewer to really buy into the efforts at comedy.

Gerard Herter as Colonel Skimmel of Austria. Though the idea of Austrians in Mexico circa 1867 being the villains of this story seems odd, it's historically accurate.
One of the more confusing aspects of this film is that a number of the same cast who appeared in the first Sabata film show up in this sequel in entirely different roles. This takes a bit of getting used to: at first, I was under the impression that the writers were trying to make a sequel that (gasp!) was generally consistent with the first film (albeit with a different actor in the title role), but it soon became apparent that there's about no connection in the story between the original Sabata and this second series entry. That said, one could definitely make the argument that Adiós Sabata is very nearly a remake of the first film. The main villain of the piece (the Austrian colonel played by Gerard Herter) comes across as a virtual carbon copy of Stengel from the first film (hell, even the name of the Austrian is similar – "Skimmel"). Additionally, the Ballantine character (played as a conniving jokester by musician-turned-actor Dean Reed) seems almost identical to the Banjo character in the first film, and the returning Ignazio Spalla, playing another buffoonish Mexican who acts as Sabata's main partner in crime, performs essentially the same duty that he did in the first film. Considering that Izzo and Parolini's script isn't exactly the most original thing I've ever seen in the first place, the fact that we're getting mostly the same exact thing this second time around makes this sequel all the more disappointing and questionable.

Dean Reed as Ballantine, the smart-ass gringo who may just run off with the gold himself.
On the plus side, Parolini's handling of the direction seems a bit more sure-handed during this film. The original Sabata had a handful of stylish moments that suggested that Parolini did have some nifty tricks in his repertoire, but more often than not, the director played it relatively safe. Adiós Sabata sees Parolini let loose a few times with some eye-popping visuals and wild camera moves (check out the swirling camera suggesting the feeling of jubilation when Sabata and his crew first get their hands on what they think is gold) and also seems to have a more grandiose sense of scale. Contrary to the confined nature of the first film, the sequel features quite a few scenes filmed in extreme long shots in rather expansive locations which are nicely captured by cinematographer Sandro Mancori. Thus, the picture (boosted by a fine music score from the always-reliable Bruno Nicolai) feels bigger and more spectacular, even if the story leaves a lot to be desired.

This sequel features superb location photography and a more grandiose sense of scale than the first Sabata film.
I love some of the quirky, eccentric details in the film – the mute gunslinger who's claim to fame is his ability to fling rocks at his opponent with his feet; the handful of scenes where a gunfight erupts immediately after a cowboy stops his tap-dancing routine – and it's not hard to see why this offbeat film was a favorite of Quentin Tarantino. The entire last act of the film is actually pretty impressive, with the loud and exciting raid on the colonel's fortress being followed up by a genuinely clever final scene which is rather funny and positively memorable in the history of this genre. Even if it's difficult to deny that the film saves its best ideas for last, I can't help but wish some of this inspiration had found its way into earlier scenes in the movie which are pretty formulaic and forgettable. A little spark early on would have gone a long way in making this picture better as a whole.

The film's ending is outstanding…I just wish there were more genuine highlights on the way there.
Admittedly, a western has to be pretty outstanding for me to really fall in love with it – I usually find this genre of films to be relatively dull and predictable. Adiós Sabata is one that's very watchable but nothing special: there are certainly some unique elements to this film, enough weird details to keep things interesting, and generally enjoyable acting performances (even if the English language dubbing is sometimes quite sketchy), but nothing can make up for the fact that everything in the film seems very familiar. Director Parolini was clearly capable as a filmmaker, but he simply doesn't seem to possess the level of inspiration that led directors like Sergio Leone or Sergio Corbucci to produce what are easily the best films of the Spaghetti Western genre. The Sabata films then are better than many of the cheapo programmer westerns that were pumped out in the late '60s and early '70s and probably would be worth a look for genre fans, but I wouldn't go out of my way to track any of them down.
Nice-looking widescreen DVD from 20th Century Fox as part of the Sabata Trilogy package offers no extras. This film can also be on amazon.
5/10 : Standard western gun violence with brief glimpses of gore.
1/10 : Maybe a few isolated instances of rough language; nothing major.

0/10 : Sabata doesn't hang out too  much in the brothel this time around.
3/10 : Even with some eccentricity to it, this doesn't hold up to the best of the Spaghetti Western genre.
"Well gentlemen, it's been fun, but I can't waste any more time. I wanna wish you all the…uh…very best of luck, especially you Escudo. You're going to have a hard time convincing the revolutionaries that you didn't steal the gold. And you know what'll happen – I'm afraid that you must just end up dripping the fat into the fire, with an apple up your big mouth and a spit up your caboose…"