1
Pros: Nicely captures the sights and sounds of F1; crash course history is pretty decent; lots of amazing archival footage
Cons: I really mean that this is a "crash course" examination of F1…
It's always seemed a bit odd to me, a longtime motor racing fan, that Formula 1, F1 for short and indisputably the most popular form of auto racing in the world, has never really taken hold in the United States. It's easy to make an argument for F1 being a European-based sport (after all, most tracks, teams, and drivers are European), but while the vast majority of American race fans are content to watch drivers circle into infinity on the tracks of NASCAR, I remember many a day in my youth waking up at the crack of dawn to watch live F1 events (since they in many cases take place on the other side of the globe, F1 events usually play in the middle of the night or in the early morning in the United States). In recent years, Formula 1 seems to have gained a bit more prominence in the minds of the American race fan however, in part due to the construction of the United States' first purpose-built F1 facility in Austin, Texas. Several films in recent years have capitalized on this new-found interest, including the excellent 2011 documentary (about the man who became the sport's biggest star before his death behind the wheel in 1994), the 2013 docudrama Rush (focusing on the famed rivalry between drivers Niki Lauda and James Hunt), and now the documentary 1 which deals largely with how the sport's safety has improved over time.
From bomb to missile…
Produced in 2013 and directed by Paul Crowder, 1 begins with a bang by presenting footage of the 1996 Australian Grand Prix in which the car of British driver Martin Brundle went airborne and flipped end over end before coming to rest in a gravel trap. In previous years, this accident almost certainly would have proven fatal, but Brundle not only escaped from the vehicle more or less under his own power, but actually returned to the pitlane and got into a backup car to continue the race. Anyone familiar with the sport of Formula 1 would know that this level of safety wasn't always a guarantee – during a period from about 1967-78, an almost jaw-dropping number of drivers were killed while racing. As a documentary, 1 seeks not just to tell the basic story of Formula 1 from its early days as a thrilling and dangerous post-WWII diversion to the modern era in which incredible technology, glitz and glamour threaten to replace the racing as the sport's primary point of interest, but rather to reveal how this premier form of motorsport cleaned up its safety record over the years.

Getting air while circling the immense Nürburgring circuit.
During the course of the documentary, 1 devotes significant time to detailing the history of some of the sport's most recognizable drivers, teams, tracks, and situations. While it's cool to hear about such legendary personalities as Jim Clark, Juan Manuel Fangio, Ayrton Senna, and Graham Hill, I find the information relating to the classic racing venues to be more interesting. On that note, Crowder's film chronicles some unforgettable moments from the legendary Monaco street circuit (undoubtedly the most famous and historic track still in use by Formula 1 today), the incredibly fast Monza track in Italy, the famous (or is it infamous?) Watkins Glen circuit in New York State, and the unbelievably hazardous Nürburgring in Germany. Twenty-two kilometers in length, there are few in the world that would challenge the Nürburgring's reputation as the world's greatest and most challenging race circuit, yet the ever-increasing speed of Formula 1 helped ensure that the sport no longer uses the facility. It's also pretty amazing to watch throughout the film as the typical F1 car (each of which is hand-designed by the individual teams from top to bottom, including the engine) have evolved from being clunky and frail vehicles that were little more than bombs on wheels to seeming like jet fighters that are planted to the ground.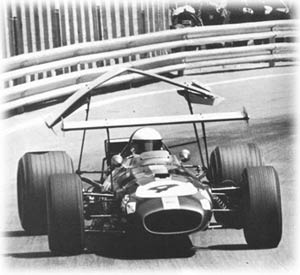 That is an ugly F1 car.
Easily the best thing about 1 is the presentation of astonishing archival footage and photographs (wait until you experience a lap of the from the perspective of Senna's in-car camera). The program is assembled and edited quite well, occasionally taking a break from the chronological history to focus on more detailed discussion of various related topics. I also really appreciated the fine selection of classic and contemporary interviews that were conducted with various people who were involved with the sport. It's always cool to hear from drivers like Jackie Stewart, Jacky Ickx, Damon Hill, and Mario Andretti as well as the those who worked behind the scenes: team owners, mechanics, and members of the F1 management. Along with the strong visuals provided in the film is a well-assembled soundtrack that contains some pretty classic tunes that serve to represent the time periods in which the story takes place very nicely.

F1 cars head through the esses at Watkins Glen.
On the downside, 1 almost plays like a blow-by-blow history of Formula 1 fatalities and checklist of safety innovations than as a more straight-forward history of the sport, spending the majority of its duration covering the period of the early to mid 1970s. At a certain juncture of the documentary, it seems like another driver is getting killed every three to five minutes in the chronology. Obviously, the material in this film was taken straight from actual history and the sport was overflowing with tragedy in the early 1970s. Still, it seems to me that the film could have perhaps been handled a little differently so as to ensure that the sense of loss comes through more poignantly. As it stands, I could almost see a viewer being turned off of F1 due to the "consistency of death" that surrounded the sport or even becoming numb to the tragedy that's present in the film. To me, that doesn't much do justice to the drivers who lost their lives while piloting F1 cars, and the final five minutes of the documentary, which play as one extended advertisement for the sport, just seems a hastily-executed and empty conclusion to a film that I would have wanted to be more substantial at the end of the day.
Driver Jackie Stewart speeds past a mess of burning cars in Spain, 1970.
An additional issue I had with the film was that there was too large an amount of time spent on the 1976 season – the same story was told by filmmaker Ron Howard in his fictionalized film Rush. Obviously, I can see why this was done – the tie-in factor probably would have helped both films gain some exposure, but considering that many championship seasons are barely mentioned during the program, it seems questionable to spend this much time on a season which wasn't ultimately that noteworthy in the bigger picture of the sport. I should also point out that although this film does include footage of fatal racing accidents, it shies away from really presenting the grim reality of how some of these drivers were killed. This could either be a good or bad thing depending on an individual viewer's point of view, but having done a substantial amount of research into racing accidents over the years, I thought the film seemed as if it was brushing the sport's darkest moments under the rug a bit (the for instance, was absolutely horrible in real life and played out under extremely dramatic circumstances; I don't think the documentary does justice to just how bad it was). In truth, the producers of the film probably had to do this in order to secure the much-needed support of Formula 1 administration, but I didn't much care for the sugar coating.

A dejected David Purley walks away after failing to be able to pull fellow driver Roger Williamson from his burning vehicle. Purley, who stopped his car and thus abandoned the race in an attempt to save Williamson's life, was awarded the George Medal for courage due to his actions.

In the end, 1 is outstanding for what it is, even though it perhaps isn't the objective and comprehensive program that someone looking to be introduced to Formula 1 might have wanted. This program conveniently ignores large portions of the sport's history in its attempt to detail the innumerable innovations that have made racing significantly more safe in recent decades, but I suppose it would be an agreeable (literal) crash course in F1 for interested viewers. Most longtime fans wouldn't be learning much from the documentary, but as I mentioned, it's always cool to see this vintage footage and hear from the people who experienced F1 during its glory days and helped make the sport what it is today. Though it's imperfect, I'd still highly recommend the film to anyone interested in motor racing in general or Formula 1 specifically.

Today's F1 is a far cry from what it was in the 1970s.
** Final note: at one point during 1, the film presents a brief image of a trackside sign that exclaims a "warning" to race attendees that "motor racing is dangerous." I feel this point is often forgotten in an era where auto racing for the most part has been relatively safe in recent years. The illusion of safety was shattered at the 2014 Japanese Grand Prix which took place in early October: French driver Jules Bianchi was critically injured when his race car slammed into a crane removing a stranded car from the race course. I've studied this accident and there's no doubt in my mind that modern F1 safety tech enabled Bianchi to survive an accident which at any other point in history would unquestionably have been fatal. Unfortunately, despite what race broadcasters, drivers, and documentary filmmakers would have us believe or like to believe themselves, there is always some element of risk involved in getting in any sort of car, especially one designed to travel and indeed race at speeds that often fall in the 150-200 mile per hour range. While the traditional causes of driver fatalities (basilar skull fractures; fire; internal injuries) have been mitigated, there is always the chance of "freak accidents" which can be very difficult to predict or prevent: there never should be a point at which driver safety is not improving.

Bianchi being extricated from his car following a tremendous impact at the 2014 Japanese Grand Prix.
No extras on the DVD/Blu-ray, widescreen editions from the Millennium Studio. This film has screened numerous times this year on the NBC Sports Network as a supplement to their coverage of the 2014 Formula 1 season.
2/10 : Generally non-graphic but nonetheless violent footage of sometimes fatal auto racing accidents.
1/10 : Minimal profanity; much of this is bleeped in the version of the film that's played on television.
1/10 : A few isolated instances of blurred topless nudity; I'm unsure as to whether this footage is similarly obscured on the DVD release.
4/10 : Probably a must for auto racing enthusiasts, with a ton of fascinating archival footage and interviews.
"We want to see something exceptional, breathtaking; that we think can't be done. We want to see gladiators, warriors, and let's face it: we do like to see a bit of a shunt. But we don't want to see deaths. It is incredible how this changed and suddenly it became unacceptable to die in the name of sport."