THE ROOSEVELTS: AN INTIMATE HISTORY on PBS
Pros: Well-researched; strong presentation; very educational
Cons: Undeniably "dry" when compared to most modern documentaries
The latest in a string of epic documentaries produced for public television (i.e. PBS) by filmmaker Ken Burns, The Roosevelts: An Intimate History is a seven-part, roughly fourteen-hour series premiering in September 2014 that chronicles the history of one of America's most important political dynasties from a period in the mid-1800s until Eleanor Roosevelt's death in 1962. Starting off by examining the roots of the family in New York State, The Roosevelts' premiere episode, entitled "Get Action,"goes on to detail how Theodore Roosevelt rose to power in the latter half of the nineteenth and early twentieth century. A viewer starts to realize through the program that Theodore's rise to political prominence was rather unlikely: after suffering from physical limitations early on in life, Theodore eventually had to work through several tragedies that occurred early on in his political career. All the while the documentary tells the story of how Theodore began a life of adventure in the American west to get his wits back about him after the deaths of his first wife and mother on the same day in 1884, Burns also devotes time to explaining the early life of Theodore's cousin Franklin Delano, who was born into a different branch of the family. "Get Action" finishes with Theodore taking over the presidency of the United States after the assassination of President William McKinley in 1901, a situation that would not only have a profound effect on the country but also on Theodore's younger cousin who now saw proof that perseverance and hard work could pay off…

Teddy (left) and FDR (right) in 1914.
Much like earlier Ken Burns documentaries, The Roosevelts relies on various sources and archival materials to tell its story. While the series does feature omniscient narration (provided by the always reliable Peter Coyote) and has the expected group of "talking head" historians who offer their two cents in analyzing the events taking place in the ongoing narrative, Burns and writer Geoffrey C. Ward often rely on actual first-hand accounts written by the subjects of the documentary themselves which are recited by a group of actors (including Paul Giamatti who portrays Theodore, Edward Herrmann who voices Franklin, and Meryl Streep as Eleanor). This technique goes a long way in making the production seem like it is, as advertised, an "intimate history:" the viewer often is told the story right from the horse's mouth as it were, and the insight into various well-known and not-so well-known historical events is undeniably fascinating. This series certainly seems like a "peek behind the curtain" of a much-revered and admired family.

In its explanation of Teddy's action during the Spanish-American War, the series includes several detailed battle descriptions – fascinating stuff.
Along with these anecdotes, Burns also provides a wealth of archival images that speak to the amount of research and work that went into this production. Including both iconic, instantly recognizable images and ones taken from more private collections, these photographs are perhaps best in their ability to help establish the setting that this documentary is attempting to chronicle. This seems an important aspect of the production to me, since the period discussed in this series is one that few (if any) people would have first-hand knowledge about. Obviously, technology changed immensely from the time that Theodore Roosevelt was leading the so-called "Rough Riders" in Cuba to the period in which Pearl Harbor was bombed thus entering the United States into the Second World War, and I would anticipate that the format of the series may change slightly as it progresses to include more vintage film elements over static images. Either way, Burns does include contemporary scenes from time to time to make this production a bit more digestible to modern audiences used to a more flashy production.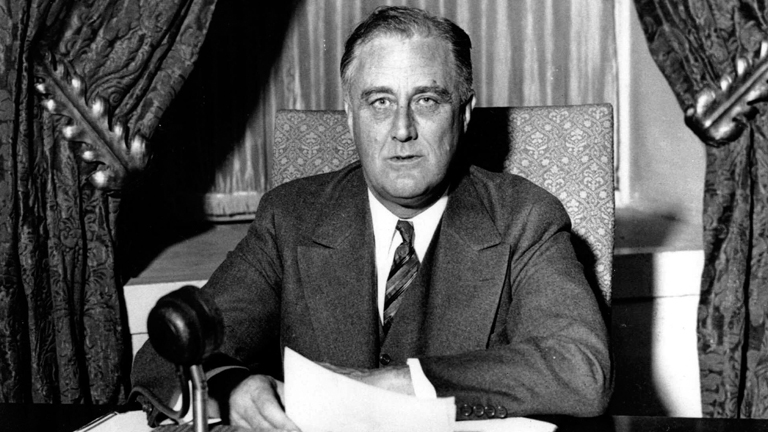 FDR – a voice of reason during a period of national crisis
That last statement is indicative of one criticism I might have about this documentary. By 2014, after having worked on numerous productions of this nature, Burns' documentary formula is pretty well-established and seems bland compared to the more vibrant, modern documentary style. In many ways, The Roosevelts could be seen as a rather "dry," old-fashioned documentary: it's precisely the type of no-nonsense production that I recall having to watch in school on many occasions (this same basic format was used for Burns' Civil War for instance). Additionally, even if Burns' selection of music is perfectly acceptable given the subject matter he's covering, the format of having an actor reading journal entries over distant, dramatic music almost becomes cheesy in context of modern film making and/or documentary technique. To put it simply, this type of thing would be likely to put some younger viewers and maybe even older audiences to sleep: the production as a whole seems almost lackadaisical in terms of its mood and forward momentum.

Eleanor, who redefined the role of the "First Lady."
It's a good thing then that the amount and quality of information presented in this film is truly outstanding. While I'm no presidential scholar, I certainly have at least a passing familiarity with various aspects of American history, and I found that this documentary provided a ton of information that I hadn't been aware of or had forgotten over time. There's also some interesting food-for-thought provided in the form of inevitable comparisons that could be made between the times when Theodore and FDR were president (and the era between their two presidencies) and the modern age. I found several quotes and analysis by the historians to be especially fascinating in a modern context: Theodore's declaration to "never let party zeal obscure [his] sense of right and decency" is a statement that I would scoff at coming from the mouths of one of today's politicians. In an era where congressional approval ratings are in the single digits and politicians (at best) seem too caught up in personal gain and cronyism, it seems outrageous that genuine altruists of the Roosevelt variety would be elected to office – or not be corrupted beyond recognition if they did.

Teddy Roosevelt: Big game hunter, warmonger, and Imperialist?
As much as the historians interviewed in the program to an extent do seem to be offering up near-endless praise to the subjects of the documentary, they aren't afraid to point out flaws in the Roosevelts either. A significant amount of time is paid in the first episode to the notion that Theodore may not only have been somewhat mentally unstable, but also a bit of a warmonger who "reveled in gore." Additionally, the observation that Teddy was an outright Imperialist isn't necessarily a flattering one, yet may explain a few things about American foreign policy that are still relevant today. The film also doesn't ignore the fact that Eleanor and Franklin were (gulp!) related – or shy away from discussing FDR's extramarital activities. In the end, though the series sometimes seems pretty warm and fuzzy, it appears to present an accurate and fairly objective portrait.
Even if it's not the most flashy thing I've ever seen, The Roosevelts: An Intimate History is quite riveting and compelling for what it is, and would be about a must for those seriously interested in the American presidency or the country's history in general. The series as a whole is exceedingly well put-together – the editing of Paul Barnes is extraordinary in its ability to juggle the stories of three different family members (Teddy, FDR, and Eleanor) at any given time, and the program presents a veritable smorgasbord of facts and archival material. As good as the early episodes have been, I can only imagine the series would get better as it goes along and covers seemingly more significant (and more well-known) segments in the lives of its subjects. One of Ken Burns' most admirable talents as a documentarian is that he makes comprehensive and indeed almost exhaustive analyses of historical subjects tolerable for mainstream audiences, and I'd have to say that he's come up with another winner here. It might not impress younger viewers, but this sober and all-encompassing series is undoubtedly excellent.