Frontier Martial-Arts Wrestling: THE ENFORCER: THE BEST OF TANAKA
Pros: Another classic Tanaka v. Awesome match along with a pair of stipulation-loaded spot-fests
Cons: Doesn't really seem to tell the whole story of one of FMW's most talented performers
Behind Eiji Ezaki (who usually wrestled under the name and gimmick of Hayabusa), Japanese wrestling promotion Frontier Martial-Arts Wrestling (or FMW) arguably had no more talented performer than Masato Tanaka. Most well-known for his wars with Mike Awesome in the Philadelphia-based Extreme Championship Wrestling promotion in the late 1990s, Tanaka had first made a name for himself in FMW, debuting in 1993 and slowly but surely becoming a major draw for the organization. By 1998 however, it was clear that Tanaka would always remain a solid number two behind Hayabusa, easily the most popular wrestler in the promotion, and Tanaka made a move to ECW for a few years, eventually becoming the first wrestler not an American citizen to win that promotion's Heavyweight Title. Upon returning to FMW in 1999, a more aggressive Tanaka would pick up where he left off, striving to eclipse Hayabusa as being the best and most popular wrestler in the promotion.
Early on in his career, Tanaka might have seemed a bit too "vanilla," but this changed after his tenure in ECW.
Throughout his career, Tanaka was recognized for his incredibly stamina and resiliency. These traits were never more explicitly displayed than during his matches with Mike Awesome, who was billed in FMW as "The Gladiator." These two had a feud fought on both sides of the Pacific that lasted for some ten years, and frequently showed off Tanaka's unbelievable ability to bounce back after taking brutal punishment. I'm not sure that I could come up with a wrestler other than Tanaka who was able to literally be dropped on his head seemingly dozens of times, then come back to win a match. Along with his ability to absorb punishment, Tanaka also possessed quite a range of big-time power moves and his repertoire only improved over time: when he returned to Japan in 1999, he debuted a new finishing maneuver called the Diamond Dust and just decimated opponents with the move. Hayabusa may have been a more flashy performer with a crowd-pleasing gimmick, but Tanaka was certainly the no-nonsense wrestler who looked like he could take on the world.

Tanaka delivering a particularly vicious chair shot.
Though he'd been featured on numerous volumes of TokyoPop's home video collection of FMW wrestling, Tanaka was the sole focus of the 2001 DVD release The Enforcer: The Best of Tanaka. This program provided a brief overview of Tanaka's career, highlighting several of his best matches in Japan. With John Watanabe and Dan "The Mouth" Lovranski calling the action, I'd probably say this is one of the best, most consistent releases in the FMW home video library even if Lovranski's "heel commentating" (i.e. he plays a bad guy) gets tiresome. Tanaka's matches and performances overseas were almost unanimously excellent, and this DVD presents a well-rounded collection of bouts that showcased Tanaka's ability both in violent stipulation matches and more technically-based contests.

The scars tell the story of Tanaka's pro wrestling career.
Here's the match rundown:
1.  Masato Tanaka, Ricky Fuji, and Tetsuhiro Kuroda vs. Kintaro WING Kanemura, Mitsuhiro Matsunaga, and "Bad Boy" Hido (2.23.1996) – Typically bonkers stipulation match madness: this is a Steel Cage, No Weapons Barred, Bunkhouse War Games match in which two competitors start out battling inside a steel cage. As a timer clicks down, more participants are added to the match until all six men are in the ring, and there's also various plunder around that can be used: a ladder, barbed wire baseball bat, and even handcuffs. Tanaka's team here faces off against an invasion of wrestlers from the rival WING organization, including Matsunaga who may well be the most insane Japanese wrestler of all time based on the matches he was involved with over the years. As might be expected, there's not much in the way of technical wrestling here: it's one big brawl from start to finish, with use of weapons and some rather crazy individual spots. Dig the moment where Matsunaga is folded up inside the twisted metal of a mangled ladder; marvel at Kanemura proving his rep as a "good bleeder," watch as Tanaka pulls off a never-ending series of finishing moves. Wild stuff, though it's also sloppy and a bit of a mess; shown only in edited "highlight" form. Three stars out of a possible five.

Matsunaga delivering a stiff kick into Tanaka's chest.
2. Masato Tanaka, Tetsuhiro Kuroda, and Koji Nakagawa vs. Kintaro WING Kanemura, Hideki Hosaka, and "Bad Boy" Hido (3.30.1996) – An even more positively deranged stipulation contest, this is a "No Rope, Barbed Wire, Electrified, Explosion, Barricade Double Hell Death Match." What does this mean? The ropes have been removed entirely from two sides of the ring and explosive barbed wire boards have been placed on the floor outside. The other two sides of the ring have been strung up with electrified barbed wire which delivers a powerful jolt whenever a wrestler comes into contact with it. Needless to say, the match is not at all technically sound, more about gasping in anticipation of who will either be thrown into the electrified barbed wire or exploding pits of death outside the ring. Still, we get a series of devastating power bombs in the ring and a ton of rough, gritty action. The wrestlers here really sell the explosions: once a wrestler hits the outside bombs, it's goodnight for a full five to ten minutes. Thus, by the end of the contest, there are only a few participants actually left in the ring vying for the winning pinfall. As Tanaka says, "This is what the electrified death match is all about:" proof that Japanese wrestling promotions frequently go nuts with the stipulations. Three and a half stars.

The spectacle of an Electrified Barbed Wire match.
3. Masato Tanaka vs. Mike "Gladiator" Awesome (9.28.1997) – Singles match for the Double World Title Championship – both the Independent Heavyweight Title and World Brass Knux Championship belts are on the line. A pretty classic match between these two competitors who knew each other very well by this point in time, with literally a ton of power moves being exchanged back and forth. Awesome's ability to fly over the top ropes is unbelievable – the guy was 6'6" and weighed some 300 pounds yet had moves to put some flyweights to shame. As per usual in matches against Awesome, Tanaka simply keeps on ticking after being absolutely brutalized through the match: at one point, he's powerbombed from the ring apron through a pair of tables on the floor. The most eye-popping moment occurs however when Tanaka powerbombs Awesome from inside the ring through a table placed at ringside. The scariest part? Awesome doesn't even hit the table flush – his skull bounces off the cement at ringside. How anyone would even be able to continue at that point is beyond me ("but wrestling's fake, right?"), and the match features a crazy, super exciting build up to the finish. Really cool. Four and a half stars.

East versus West: Awesome and Tanaka had some unbelievable battles over the years.
4. Masato Tanaka vs. Koji Nakagawa (1.5.1999) – Following his initial stint in America, a positively gigantic, very muscular Tanaka returned in this match and positively destroyed Nakagawa within about thirty seconds: a total squash match designed to make Tanaka out to be the badass he always should have been. Nakagawa doesn't seem too happy to be doing a "job" (i.e. losing) this match – check out his body language before the match begins. Though it's cool to see Tanaka's first match back, due to the extreme brevity of the contest , I'm only giving it a half a star rating.

Ye olde piledriver.
5. Masato Tanaka vs. "Bad Boy" Hido (1.11.1999) – A week removed from his obliteration of Nakagawa, Tanaka takes on the dubiously talented Hido in this match, which works out in much the same way. Lasting maybe 90 seconds total, Tanaka again rolls through an opponent without breaking a sweat. Gotta love the trash talking that goes down post-match; that alone bumps my rating up to one star.

Laying in the remnants of a table.
6. Masato Tanaka vs. Mr. Gannosuke (8.20.1999) – By this point in 1999, Tanaka had come back down to Earth to some extent, and become embroiled in a feud with Gannosuke and wrestler-turned FMW commissioner Kodo Fuyuki. Fuyuki acts as the guest referee in this match, so you can probably guess how this turns out. Though it's much more a storytelling device than a completely satisfying match, it's easy to see that these two wrestlers have great in-ring chemistry with one another. Having to deal with the obviously bias referee and lots of outside interference diminishes one's enjoyment, but I still have to commend these two for pulling out some highlight moves, including Tanaka's running Death Valley Driver and the Fire Thunder Driver that Gannosuke pulls off in retaliation. Tanaka takes some ridiculous abuse during the course of the match, and there's quite a bit of scientific wrestling on display in a match that culminates in a rowdy finish. Not outstanding, but worthwhile nonetheless. Three and a half stars.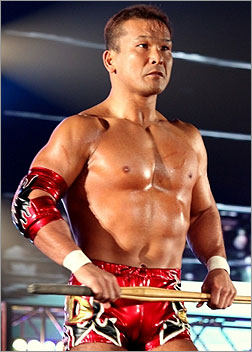 Tanaka's still going strong in his wrestling career even today.
Considering that the matches featured on The Enforcer DVD were hand-selected to represent the best of Masato Tanaka, I guess I shouldn't be all that surprised by the fact that this DVD is among the best of the FMW video series (the fact that most of the matches here are shown in their entirety instantly places it above most of the other discs in the series in which matches were frequently cut to shreds by video editors). What's more surprising is that this program serves to demonstrate why many of the other FMW DVDs are so mediocre: good wrestlers can make even bad matches worth watching due to their ability to "sell" what's happening, and I have to say that the vast majority of people on the FMW's roster simply don't do this effectively. While I could watch crazy stipulation matches all day and enjoy the spectacle if nothing else, FMW's technical wrestling often doesn't impress me that much – sloppy wrestling is sloppy wrestling any way you look at it. One has to wonder then why the producers of TokyoPop's FMW DVDs didn't simply create compilation videos of the overall best matches this Japanese promotion could offer. In 2001, the promise of ridiculous in-ring violence sold these discs on their own (aided by the fact that it was difficult to find any Japanese wrestling to watch outside of the gray market), but more than a decade later, the appeal of the blood and gore has worn off and I'm left craving more solid fundamentals. While many of TokyoPop's FMW discs would be best appreciated by those who like Japanese wrestling in the first place, I can safely say that The Enforcer: The Best of Tanaka would be one FMW release that wrestling fans of all ilk might enjoy if they pick up. It's not quite your typical WWE-style wrestling, but it is pretty darn entertaining.
DVD from TokyoPop is full-frame format; decent picture quality transferred from the VHS masters. Extras include a photo gallery with wrestler biographies and two bonus matches:
1. Masato Tanaka vs. Kintaro Kanemura (9.5.1995) – Early match between these two who would have many battles in FMW rings. This is a more friendly, technically-based contest than might be expected given Kanemura's reputation for being a "garbage wrestling" specialist and it's a hard-fought, back and forth contest. Still, the match seems relatively low-key and unexciting; since there's no commentary at all, it's perhaps most interesting to notice how quiet the Japanese fans are – this is typically the case at most Japanese wrestling events. Three stars.
2. Masato Tanaka and Tetsuhiro Kuroda vs. Kodo Fuyuki and Hayabusa – Shown in highlighted form, this tag team title match is most notable for the slightly bizarre pairing of Hayabusa and Fuyuki. Fuyuki would later go on to become the "Mr. McMahon" like villain of FMW, but here, he's presented as just another wrestler. Lots of screaming and grunting in the match – perhaps the wrestlers are making up for the quiet crowd. A surprising finish is about the only truly surprising thing to be found here. I'd give it two stars.
6/10 : Two pretty wild stipulation matches involving explosions and some heavy bleeding.
1/10 : Brief rough language; nothing major.
0/10 : Not a woman to be seen in the whole program.
6/10 : The stipulation hell death matches give this program some kick, but it's actually probably one of the more accessible of the FMW video releases.
Tanaka Trash Talk: "This is your hometown isn't it? Aren't you ashamed…you getting a little too flabby?"