SWAMP MONSTERS on Discovery Channel
Pros: Lots of gunfire – it must be good then, right?
Cons: A complete waste of time – it's not even remotely entertaining or good for a few laughs
Late in the going of the premiere episode of the newest "let's hunt down a monster" program called Swamp Monsters, one of the characters in the show declares that the whole operation of tracking down a mysterious, dog-like creature "seemed choreographed." Truer words have never been spoken in the genre of "speculative documentary" programming dealing with the process of hunting down purported monsters…

I'll just leave this here…
Blatantly ripping off the basic formula of Mountain Monsters (a show that was none too great in its own right), Swamp Monsters follows a quartet of outdoorsmen from the – get ready for it – Bayou Enforcement Agency for Supernatural Threats (or BEAST) as they "risk life and limb" to investigate reports of various monster-like creatures in the Louisiana bayou. Impossibly, within moments of starting their investigation, the crew is revealed to be "hot on the trail" of the creatures they're looking for – despite the fact that the animals they're after probably don't exist in the first place. The show's premiere episode (airing August 28, 2014 on the Discovery Channel) dealt with the pursuit of a "devil dog" sort of creature known locally as the "Grunch." Following a handful of interviews with some of the most sketchy eyewitnesses in monster-related reality TV history and the employment of a half-assed, almost ridiculously elaborate trapping system designed to capture the creature in question, the BEAST group eventually goes on the offensive during a nighttime hunt in which they arm themselves to the teeth with what appears to be semi-automatic rifles. Here's the kicker though: despite their trap being "infallible" and the gang's tendency to shoot at anything and everything around them to the point that I probably could have been convinced that I was actually watching a low-budget film chronicling the war in Vietnam…they never find a damn thing. Go figure.
I'm forced at this point to repeat the assessment of the team's tracker:  "this seems choreographed."

For as "real" as this show is, the gang may as well have been tracking this creature down…
Much like Mountain Monsters, the gang of "good ol' boys" featured in this show seem suspiciously like low-rent actors going through the motions of attempting to hunt down imaginary monsters. All the stereotypical characters are here: the aforementioned tracker named Boudic, team leader Elliott, "weapons and tactics expert" Yak, and the obligatory "wild man" character who goes by the name of Nacho. As might be expected, the program emphasizes the cohesiveness of this unit, as if none of these "investigators" would be able to handle any sort of operation if forced to tackle it by their lonesome. For all I know, that could be a factual statement – these guys seem not to be the sharpest tools in the shed, cracking lame jokes whenever possible to up the camaraderie level on display. Hell, they invariably refer to each other as "brah," so they must be best friends since forever, right?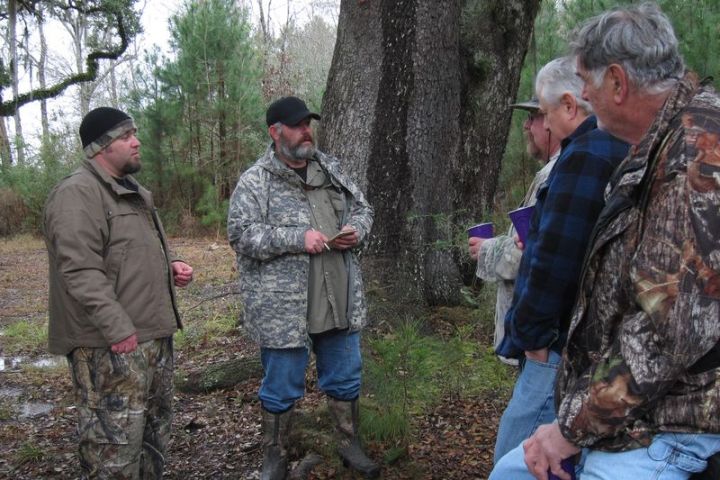 "Bros in the Bayou"
Just in case the characters don't seal the deal on this show being a complete crock, a viewer can always rely on the old fashioned monster action to keep himself entertained – or so one would think. Unfortunately, the more of these monster hunt shows that are made, the less credible any of them are – it's pretty bad when the average crypto-reality (i.e. monster) show on TV these days makes Finding Bigfoot look positively scientific by comparison. Swamp Monsters unleashes some of the most crude and awful-looking CGI renderings of monsters I've ever seen and doesn't even bother to concoct phony home video monster footage to "convince" the viewer that the Grunch is real. Frankly, I'm flabbergasted for the need for this program at all in light of Discovery's pretty pathetic Beasts of the Bayou program that debuted earlier this year: how much demand could there honestly be for cajun-fried monster shows – especially ones that are this bad?

See the monster? Yeah, neither do I…
As is typically the case in monster-related reality TV shows, it's impossible to believe that what we're seeing is happening spontaneously. The camera seems to be aware of things happening before they actually do: if this was a recording of a live event, the camera would follow the action, not predict it. I also have a very hard time buying the fact that the terrain seen in this episode is as inaccessible as the characters would lead us to believe with their constant bickering: there simply wouldn't be a multiple camera set-up in a location that's full of quicksand. The whole of Swamp Monsters is very "stagey" and overly dramatic: this is the first and so far only monster show that creates "tension" by revealing that the swamp the characters are trudging through is full of mosquitoes that – GASP – may be carrying the West Nile virus! Though there were many moments during this debut episode that left me rolling my eyes in disgust, for the program to create drama by cashing in on public fear of an epidemic is a new low for crypto-reality TV. In the end, when Nacho breaks out a FLIR thermal imaging camera after declaring he's surrounded by Grunches only to see nothing in the viewfinder, that says all one really needs to know about the authenticity of this program.

Sad thing is, it doesn't take much to make the bayou out to be a pretty darn creepy place.
I never thought I'd say this, but I'm actually getting sick of all the monster programming that's turning up on the "education" channels these days. The fact that new series are popping up every other week, with even more on the way, is plain ludicrous: these shows are beating a at this point and further programming will only initiate the final death roll that will put the crypto-reality genre out of its misery. The sad thing is, I love shows like this – or at least what shows like this could be if they actually had some inclination to present genuine information. Unfortunately, there seems to be precisely no effort on the part of the producers of many of these programs to conduct a more scientific, factually-based investigation: it's much more convenient to follow a script, manipulate an audience to an outrageous extent, and create false drama with things occurring just off-camera.

Where's Swamp Thing when you need him?

The fact that Swamp Monsters is phony as all get out honestly isn't it's worst trait. The thing that kills it is that it's not even all that entertaining as reality TV: what is the point of this show? It's extremely lazily produced and easily the lowest common denominator of a genre of programs that's notoriously bad in the first place. Thankfully, it appears that viewers would only have to suffer through two additional episodes (dealing with …yawn…the Honey Island Swamp Monster and the "Old Faithful" of bayou monster program subjects, the Rougarou/Cajun Werewolf) which apparently will air on the Destination America channel sometime in the future. I sincerely hope that this atrocious series is not renewed; thinning out the ranks of monster programs on TV might might just make the concept fresh again. As it stands now, this whole genre of program is on most definitely on life support…and fading fast.