IN SEARCH OF ALIENS on History Channel
Pros: Interesting subjects; more focused approach; Giorgio Tsoukalos!
Cons: Aliens – explanation for everything…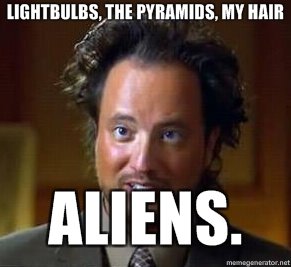 If nothing else, History Channel's In Search of Aliens confirms the status of the internet meme relating to charismatic and wild-haired "ancient astronaut theorist" Giorgio A. Tsoukalos: no matter what, no matter how, aliens are the ultimate explanation for EVERYTHING. Debuting in July 2014, In Search of Aliens combines the basic premise behind History's long-running Ancient Aliens show (which explores the possibility that extraterrestrials visited Earth in the distant path and provided knowledge and guidance for our human ancestors) with that of America Unearthed, a show that follows forensic geologist Scott Wolter on a quest to prove that American history "isn't what we've been told in schools." Basically, America Unearthed attempts to dispel the notion that Columbus first discovered America, and In Search of Aliens' opening declaration that "…what we've been taught by mainstream scholars is not the whole picture…" is an almost word-for-word recreation of the thesis of Wolter's program.
Any way one looks at it, it's pretty clear that what we're dealing with here is yet one more speculative documentary being passed off as hard fact. Not that there's anything inherently wrong with that: I'm a big fan of Ancient Aliens not because I necessarily believe every damn thing the show says, but because the program promotes thought about the topics it examines. It's automatically then several (giant) steps above the mindless entertainment that plays on History Channel nearly around the clock in the form of various positively asinine reality shows (Cajun Pawn Stars – really??!?). Unlike that reality show bunk, Ancient Aliens certainly challenges a viewer to examine his own perspective on different, usually fascinating subjects (the underlying themes of the show often focus on ancient civilizations, religious notions, ideas of genetic engineering, and technological discoveries) and think outside the box.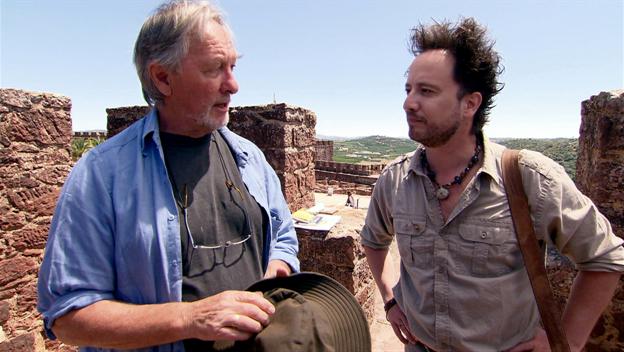 Tsoukalos in Portugal, discussing the possibility that Atlantis actually was located here "beyond the pillars of Hercules."

In Search of Aliens, hosted by Tsoukalos (long-time contributor to and producer of Ancient Aliens) seems to be doing much the same thing, although each individual episode of this program is much more specific in its focus. Episode one followed Tsoukalos around the Mediterranean in search of the lost city of Atlantis. Described in detail by the Greek philosopher and mathematician Plato in a pair of early works, the Atlantis civilization supposedly was enormously wealthy and extremely technologically advanced, but it disappeared virtually overnight and its exact location has never convincingly been pinpointed. Tsoukalos' quest for the truth behind the Atlantis legend takes him from Greece (where the story originated) to a potential location in and back to the Greek island of . During this journey, Tsoukalos interviews several experts who offer up their explanations of where Atlantis actually was located and what happened to it, and he also examines some interesting relics – including a so-called "" in Portugal. This huge stone was carved thousands of years ago, and may feature the design of a double-helix DNA strand on it – but if so, how did ancient people know about genetics at all? Questions like this lead Tsoukalos to an obvious explanation of Atlantis: the civilization was actually an alien craft that was misinterpreted as a city by ancient humans unaware of alien technology.

Aliens – they explain everything.
Probably the biggest difference between In Search of Aliens and its obvious inspiration Ancient Aliens is that In Search of… plays more like a travelogue at times than a more wide-reaching documentary. This opening episode literally followed Tsoukalos on a zigzag course across the Mediterranean, and the somewhat flashier production afforded to this show ensures that the program had some breathtaking landscape photography including a few awe-inspiring aerial shots. I rather liked the history and explanation of various legends relating to Atlantis that were provided in the show, and to some extent was surprised that this program almost used the whole alien connection as a sort of afterthought. As might be expected, Tsoukalos made a few fleeting, ominous references to the (mysterious Sumerian deities) and the , but In Search of Aliens surprisingly seemed a bit more rooted in reality or at least plausibility rather than wild conjecture. Will this tendency last as the series goes along? Only time will tell, but given the track record established by Ancient Aliens, I'd expect this new program to eventually descend into a fantasy land itself. Hopefully, when it does do this we won't have to witness the spastic movements of author David Hatcher Childress getting himself all hot and bothered while discussing these type of subjects…

Childress; per usual, maniacally gesticulating.
Speaking of fantasy land, possibly the most dumb moment in this opening episode was where the "student" (i.e. Tsoukalos) went to Switzerland to meet the "teacher" (i.e. Chariot of the Gods author Erich von Däniken, who's largely responsible for the popularity of the ancient astronaut theory) at the positively goofy amusement park built by von Däniken in order to promote his theories. To me, this sequence of the show seemed very cheesy, as if Tsoukalos had to receive "the master's blessing" as it were to make his statements throughout the program seem more credible. von Däniken's brief appearance adds nothing of value to the program – essentially, he just spouts out his thoughts on the mystery of Atlantis, yet Tsoukalos is quick to point out that the discussion he had with the Swiss author was "mind blowing." Could have fooled me – it seemed very inconsequential and mostly irrelevant when compared to what the more established, mainstream scientists featured in the program had to say. But again…ALIENS…
Yes, von Däniken's "Mystery Park," does actually exist.
Considering that episode two of In Search of Aliens deals with the (rather fascinating) story of the perplexing Nazi experiment known as , I guess an audience can assume there's going to be some overlap between subjects discussed in Tsoukalos' new show and those featured at one point or other on Ancient Aliens. Honestly, if you've seen one of these shows, you know what to expect from the other, and I can almost see this new show as an attempt to give the undeniably enthusiastic and popular Tsoukalos his own gig. In Search of Aliens seems entertaining and interesting enough though, and I'd probably recommend it to those who enjoy this type of program in the first place. As with all speculative documentaries, it's best to take this one with a grain of salt, but its ability to get a viewer thinking is, in my opinion, most commendable.
PREVIEW VIDEO: