FRONTIER MARTIAL-ARTS WRESTLING: THE FLYING ASSASSIN
Pros: Hayabusa vs. Tanaka is crazy
Cons: This isn't a well-rounded chronicle of the man's career from start to finish
For the eighth volume of their series of compilations showcasing Japanese wrestling promotion Frontier Martial-Arts Wrestling (or FMW), TokyoPop decided to adopt a bit of a different format and focus specifically on one of the promotion's most popular performers. Eiji Ezaki, better known as the masked, high-flying wrestler Hayabusa, got his start in the wrestling business in 1991 and for the next ten years would perfect a style combining high-flying and fast-paced Mexican Lucha Libre technique with the more hard-edged and technical Japanese style of wrestling. After a brief stint in FMW, Hayabusa cut his teeth during some time spent in Mexico, and returned to Japan in 1995, quickly becoming a sort of poster boy for the FMW promotion – much loved by fans both for his incredible athleticism and in-ring abilities as well as for his mysterious yet emotional persona. Though I find that Hayabusa's mic skills are pretty atrocious – every time he gets on the mic, it seemed like he was either sucking up to the audience ("I promise I will win!") or weeping about one thing or another – the Japanese fans obviously bought into his character, and honestly, the entire FMW promotion was carried on the back of Hayabusa. Sadly, in 2001, just after Tokyopop's chronicle of Hayabusa's career The Flying Assassin was released, Ezaki was paralyzed when he cracked two of his vertebrae after botching a springboard moonsault. This effectively ended his in-ring career prematurely, but Ezaki has continued to work within the wrestling business while trying to overcome his injury. (As a side note and an indication of how much Hayabusa meant to the promotion, following Ezaki's career-ending injury, FMW would quickly sputter out, and fold within a year's time.)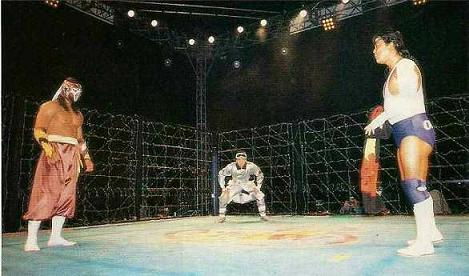 Hayabusa vs. FMW Founder Atsushi Onita in an "Exploding Cage Match."
As would be expected, The Flying Assassin focuses on the good parts of Ezaki's career as Hayabusa, and is one of the better FMW video releases. One really gets a sense of what made Hayabusa special in watching this program: he comes across like a slightly less "homicidal, genocidal, suicidal" version of the legendary Sabu, using an unending array of acrobatic aerial maneuvers to beat down his opponents. The Flying Assassin also spends some time letting the viewer see "behind the mask" of Hayabusa, providing a brief biography and even footage of a journey to Thailand in search of traditional martial-arts training. Perhaps the most disappointing aspect of this release is that only three matches are included. Don't get me wrong: it's nice that (for once on these FMW DVDs) we're seeing complete matches that haven't been hacked to smithereens by the producers and editors, but I think most fans picking up a wrestling DVD would like to see more than just a trio of matches that maybe run for an hour total.

After his career-ending injury, Ezaki has continued to appear at wrestling shows, and has even begun a singing career.
Commentary here is provided by Dan "The Mouth" Lovranski and John Watanabe, who don't quite have what it takes to send their announcing to the next level. Sure, Watanabe can repeat the names of the moves he's seeing in the ring more times than necessary just to hammer points home to the viewer, but these two don't really provide much excitement during the matches they call. Again, I have to point out that the Lovranski/Watanabe duo is much preferable to early FMW video releases which featured Watanabe, paired with Eric Geller, rattling off awful jokes and dispensing false information throughout the programs. I guess we have to take what we can get, though it doesn't stop me from wishing we had better.

Laying in a pile of chairs at the Korakuen Hall, 1996.
Regardless, here's the rundown of matches:
1. Hayabusa vs. Masato Tanaka (3.13.1998) : A preliminary match in a tournament to determine the number one contender for the FMW world title belt, pitting two of the most popular wrestlers in the promotion against one another. Honestly, this is the kind of match I would always be down to watch: a solid, hard-hitting contest in which the performers display technical skill as well as a ton of grit and determination. At times, we perhaps get too many armlocks and submission holds, but I doubt most people will be caught up in that when these two start trading finishing moves like there's no tomorrow. Tanaka takes some vicious suplexes right onto his skull, and comes right back to deliver numerous stiff forearm and elbow smashes as well as several running Death Valley Drivers that are just brutal. Hayabusa displays his usual, dazzling aerial moves, and the entire match builds up to a fever pitch by its conclusion, with back and forth pinfall attempts and near escapes. It's pretty classic and pretty crazy. Four and a half stars out of a possible five.

Hayabusa in flight
2. Hayabusa vs. Mike "Gladiator" Awesome (3.17.1998) : Semifinals match in the tournament to determine the number one contender for the FMW world title. These two wrestlers had a lengthy feud in the years prior to this contest, so I was expecting another slobberknocker here. Unfortunately, this is nowhere near the best performance from either man – or even their best match against one another. That said, it's unbelievable to watch the much smaller Hayabusa (just four days removed from the previous, punishing match with Tanaka) pull off some of his slams and suplexes on the 6'5", 300 pound Gladiator (known for his appearances in all the major American federations). One would expect that Hayabusa would just be manhandled by the physical specimen he was facing here, but that isn't necessarily the case. Both men get their chance to shine in this match, but the cumulative effect of all the power moves didn't impress me for whatever reason. I've never thought that Mike Awesome was all that great of a performer (despite the fact that his fights in ECW with Masato Tanaka were mind-blowing – probably a reflection on Tanaka's ability more than anything else), and though it's impressive to see a guy that size fly around like he is able to, he simply isn't able to captivate an audience. The ending here seems abrupt and lousy; in the end, I can definitively say that I've seen better. Three stars.

With the world title.
3. Hayabusa vs. Mr. Ganosuke (4.30.1998) : Title match for the unified championship of the FMW Brass Knuckles (Heavyweight) Title and FMW World Independent Title. Another match in the ever-expanding feud between these two competitors who had trained together in the early 1990s. Hayabusa, as expected, is the more technical, more graceful of these two performers, while Ganosuke is the prototypical "dirty player," using whatever means he has to in order to win. Ganosuke perhaps oversells a knee injury, though Hayabusa's focus on this joint with his choice of maneuvers at least makes it seem like the injury may be legitimate. While this match isn't bad, it's precisely what one would expect from a title belt: the "feeling out process," the back and forth technical holds, the "scientific wrestling," and the exchange of finishing moves. Oddly though, the excitement level of the match never builds above a certain point: though the two combatants trade power moves as the match goes on, the contest seems, frankly, dull, with a lame finish that simply doesn't seem satisfactory considering everything we've just seen. The fact that the announce team push Hayabusa as the "face" (good guy) in the match to the point of absurdity doesn't help matters either. Three stars.

Hayabusa (sans mask) and Ganosuke in happier times – hard to believe these two would battle in the notorious "Anus Explosion Match" during 1999.
It's rather strange that the match quality on this DVD actually goes down quite a lot over the course of the program. I could probably almost be persuaded to call the bout with Tanaka a classic, but the other two contests here seemed inconsequential. I can understand that this DVD was trying to chronicle Hayabusa's road to the FMW title (oops, did I give something away?), but I could easily make a much better showcase of the man's abilities (and a better chronicle of his career) than was exhibited in the sum total of these three matches. What coulda/shoulda been a genuinely excellent FMW DVD then falls back into the realm of being barely better than average. Certainly, The Flying Assassin disc would be worth a pickup for fans of the promotion since it shows off the main attraction that existed in the promotion for the better part of a decade, but I can't help but wonder at this point (eight discs into an undeniably mediocre FMW video series) if TokyoPop was ever interested in producing genuinely outstanding wrestling releases. It's of course cool to see this Japanese wrestling at all, but one would hope they could have constructed better individual programs than what we've been given with the series.
"Uncensored Version" DVD from TokyoPop Home Video is more lame than usual, full-frame, decent picture quality, but the only extra (aside from the usual, same array of wrestler bios and text-based history of FMW) is a three-minute video in which Hayabusa applies his trademark makeup. Yep, that's it. Boo!
2/10 : Fleeting images showing some of Hayabusa's more extreme matches. Probably the most alarming thing here is seeing the sheer number of scars adorning Hayabusa's body.

0/10 : Lots of wrestling hype, no profanity.
0/10 : Not a single female to be seen.
3/10 : Sure it's Japanese wrestling, but this is pretty standard stuff.
"What Michael Jordan is to basketball, Hayabusa is to professional wrestling." Yeah…I don't think I'd got that far…