Peel & Seal Original Aluminum Instant Waterproof Repair – 6 in. x 25 ft. Roll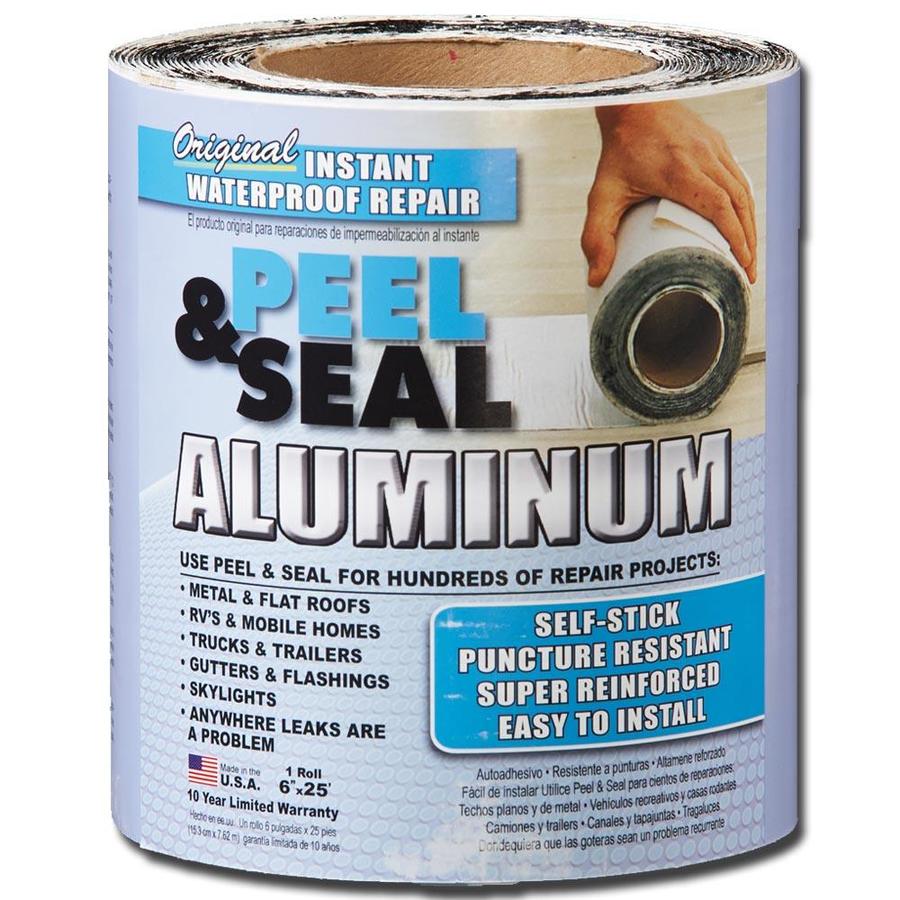 Pros: Reasonable price.  Strong, yet flexible.  Polymer reinforced aluminum facing allows for sustained UV exposure.  Cuts easily to size using razor or shears.
Cons: Powerful adhesive can make placement a one-shot deal.  Disposal of protective backing requires a trash can be at-hand.
Owning your own home means never being able to say you're finished.  Projects, both routine and unforeseen, occupy your non-working hours – and can often disrupt your dreams. The roof on my former home had a mystery leak that only occurred under certain conditions.  A parade of experts never did discover where the water was coming in.  Perhaps if I had known then about Peel & Seal Aluminum Instant Waterproof Repair, that mystery could have been history.
Like most home improvement ideas, my latest plan was ambitious.  Making my home's principal deck as waterproof as possible would prevent the likelihood of a future re-build costing thousands.  The original builder did an excellent job with the structural elements.  My mission was to prevent nature's elements from undermining that accomplishment.
Since the deck in question serves the 3rd level of my 4-level home, I could safely remove five rows of the 6-inch-wide decking at a time.  I applied a coat of Benjamin Moore Translucent Exterior Finish to the exposed joists, then, when thoroughly dry, placed a strip of Peel & Seal on top of each joist with a quarter-inch overhang to act as a drip-edge on either side.  The theory being that when the newly finished decking was reattached using stainless steel screws, the aluminum-faced Peel & Seal would keep the top of the joists totally dry, while diverting moisture away from their sides.
Each roll of Peel & Seal Instant Waterproof Repair contains a flexible adhesive layer of rubberized asphalt, bonded with a polymer reinforced aluminum facing, that measures 6 inches wide by 25 feet long.  The fact that a 2 x 8 inch joist is approximately 1-1/2 inches thick accounts for my ability to cut each 6-inch width into three, 2-inch strips – allowing for the aforementioned quarter-inch overhang – while avoiding waste.
Since each section of decking removed covered 30 inches of joist, placing the strips was quick and simple. To begin, I removed the protective paper to expose the powerful adhesive. I then held the strip at either end, maintaining tension during application so as to achieve a flat, wrinkle-free finish that was centered along the joist's top edge.  Each piece of decking was given a code as it was removed – allowing for its exact replacement and re-use of the original screw holes.
Peel & Seal also provided a means to augment the original aluminum flashing directly above where the deck joists meet the ledger board.  By removing the apron trim below the sliders, I was able to fine-tune the weatherproofing efficiency of this vital and potentially problematic connection – as well as to further inhibit airflow.
When completed, my deck was not only more attractive, but it could now, in harmony with my new red metal roof, laugh at the northern New England elements.  The polymer reinforced aluminum facing of the Peel & Seal that is visible between the decking coordinates beautifully with the thousand-or-so new stainless steel screws that secure it to the joists.
According to the label, Peel & Seal Aluminum Original Instant Waterproof Repair is puncture resistant and can be used "anywhere leaks are a problem".
Potential users should be aware that this product is incompatible with EPDM [ethylene propylene diene monomer], TPO [thermoplastic polyolefin], flexible PVC [polyvinyl chloride], uncured neoprene and silicone caulks.
The manufacturer provides Peel & Seal with a 10-year limited warranty.
Made in USA
Cofair Products, Inc.
Skokie, IL  60076
800-333-6700