AT&T CL82353 – 3 Handset Cordless Phone Set with answering system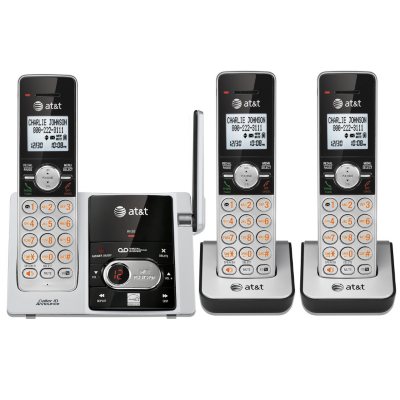 Pros: Light weight – Very Good Sound Quality – Long life NiMH batteries
Cons: Poor range
I needed 2 new phone sets, one for my house and one for the home office.  There were no negative consumer ratings at the time of purchase, all were 4 & 5/5 so I felt this would be a great deal at only $70.  After charging the phones for 24 hours we programmed them, set up the answering message and were set to go in just a few minutes. Very intuitive set up process without having to reference the owner's manual. My only complaint is with the limited range. I live in an adobe home with walls that are nearly 12 inches thick. The set I have in the home-office is used only on our fax line and for making outgoing calls only – so no problems, I'm keeping the one set. On the other hand I have the main house line with the base unit in our master bedroom.  After walking 20 feet away or three rooms from the base the phone starts breaking up then losing its signal altogether. Thinking we had a defective unit I switched out the home office set – including the 3 phones with the house set. Same limited range issue.
That said I believe the only downside this model has would be it losing its signal entirely in my style of home. My only other peeve is that when you set the phone back into its charging station, there is no audible acknowledgement, just a very dim red LED (upper left near the earpiece). There's also a small 3-bar battery status level icon on the LCD screen.
The handsets are of decent quality, easy to read LCD. The silver dial keypad buttons are orange backlit and very responsive.  I'll list a few more of the phones features with are typically found on higher priced sets….
Caller ID Announce: Much clearer than our older Panasonic. –
10 Ring Tones: All of which are very generic with #8 being my choice. The ringer setting is much louder than any cordless set I've ever purchased.
HD Audio with Equalizer: Just a gimmick, there are 2 optional bass settings and 3 treble. All can be controlled by pressing the bottom right button on the keypad. Mine sounds just fine on default or regular mode.
Finally, as you can see in the picture the base unit is smaller than average taking up very little space and is wall-mountable as well. With the strong point being audio and audible quality, I would recommend this purchase to those who are hearing impaired. My only true disappointment is the range of the CL82353 but that's in part due to my environment.